Introduction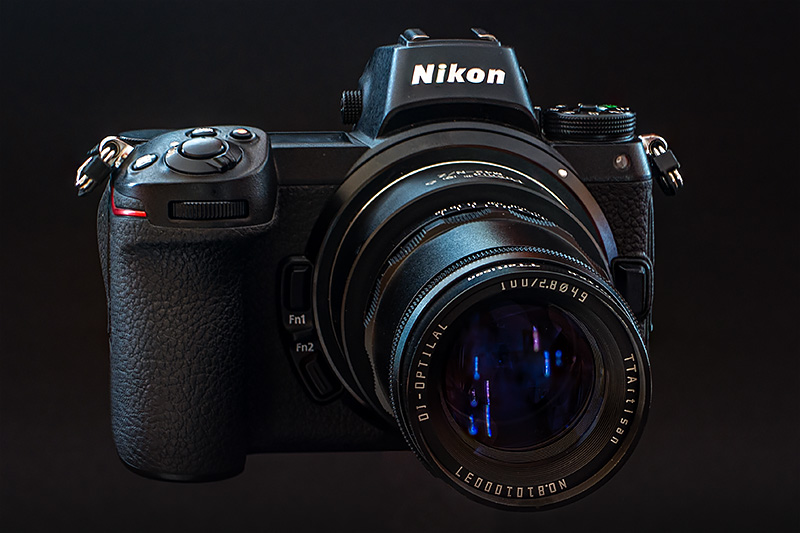 Meyer-Optik Görlitz produced a series of triplet lenses "Trioplan", based on the Cook Triplet design from 1893, in different focal lengths after WWII. One of those lenses was the 100mm f/2.8 Trioplan, produced from 1956 to sometime at the end of 70s or beginning of 80s, when Meyer-Optik Görlitz was merged with Pentacon in the then East Germany because they had better 100mm lenses. It had OK center sharpness and could produce a so-called soap bubble bokeh in certain situations. This was considered an optical defect then, which in fact is what it is. With the advent of digital cameras, it became very popular though, and the prices went up in the used market, so popular that the company decided, for the first time in history, to revive the lens by a Kickstarter campaign in 2015. It was a successful campaign; the produced lenses were sold out quickly for about €1000 each. Now TTArtisan has come up with a lens very similar to it, both in look and optical design. Let's have a closer look at it! 
Sample Images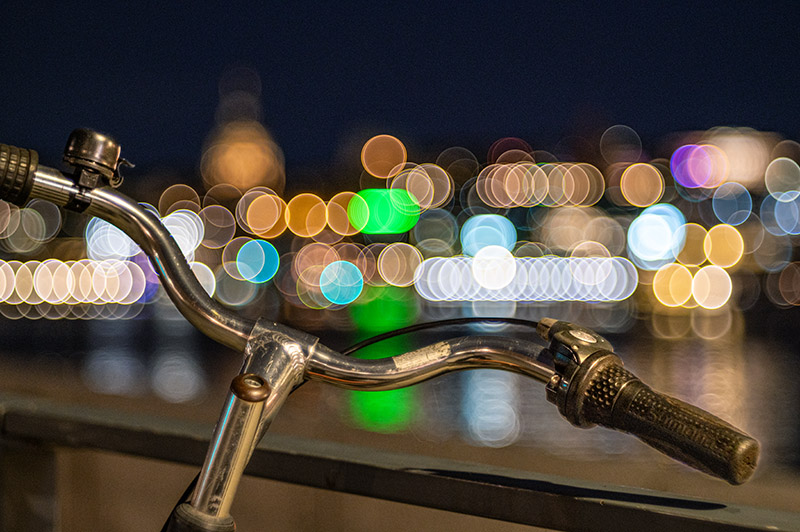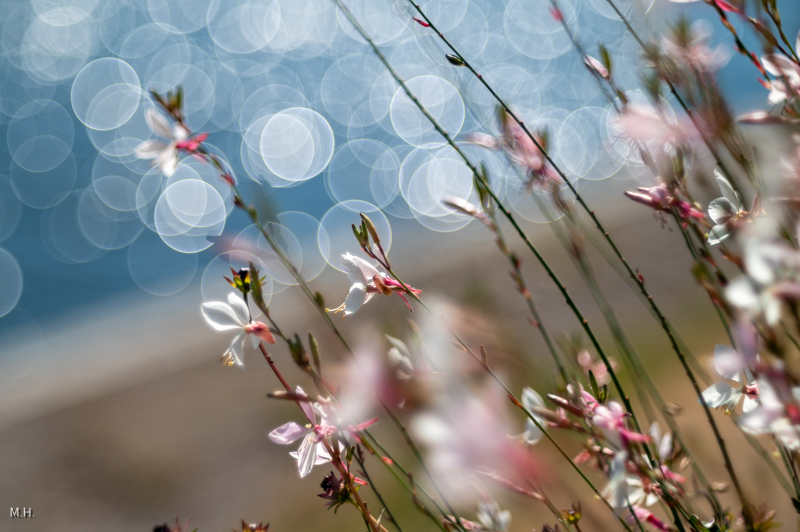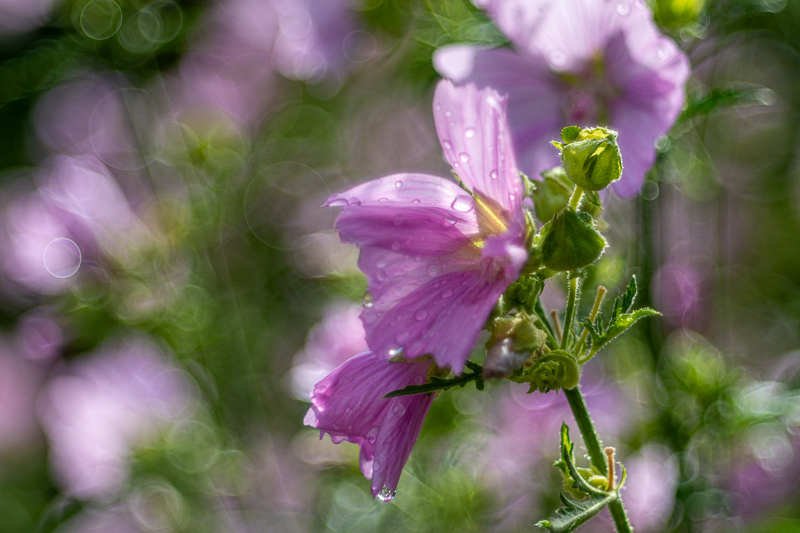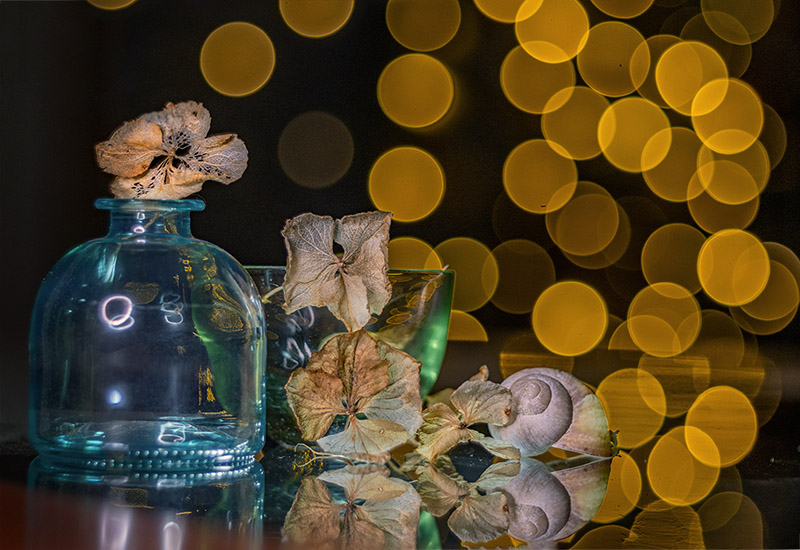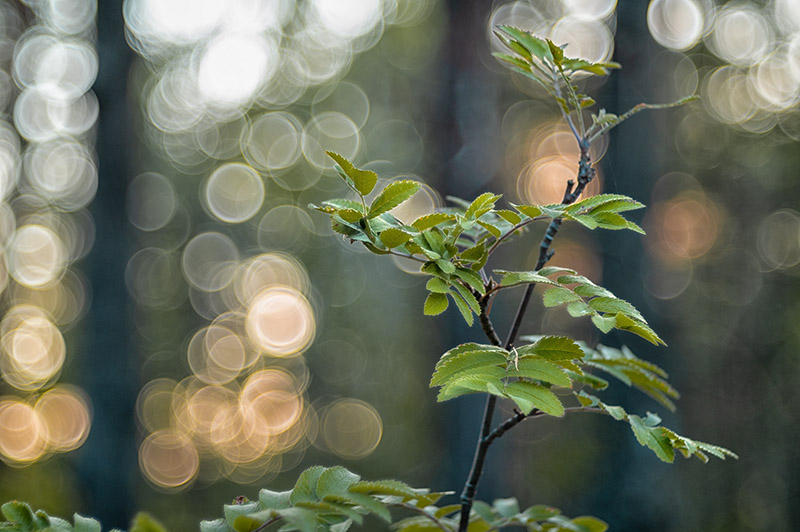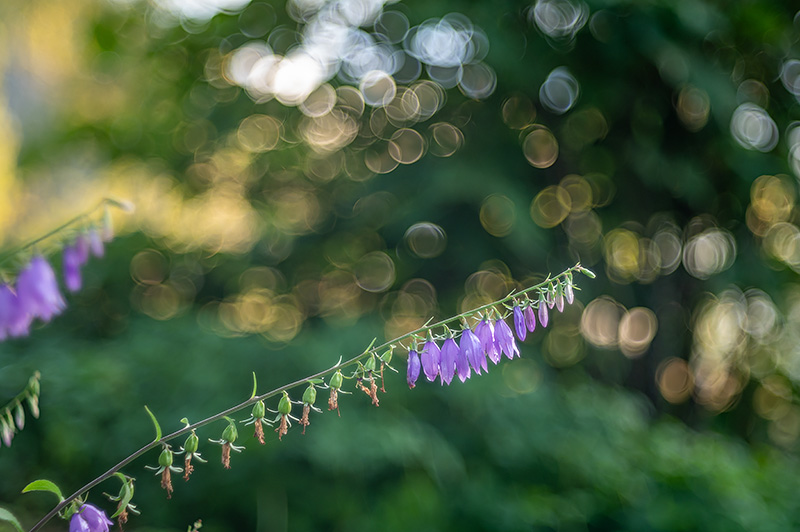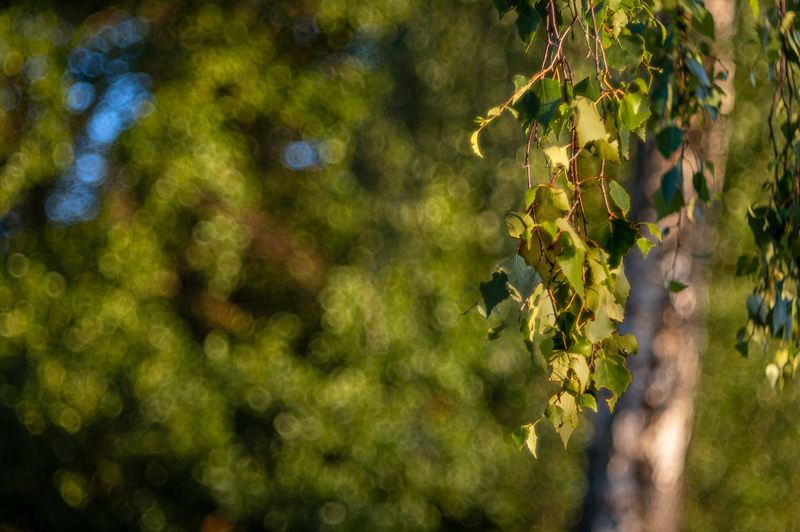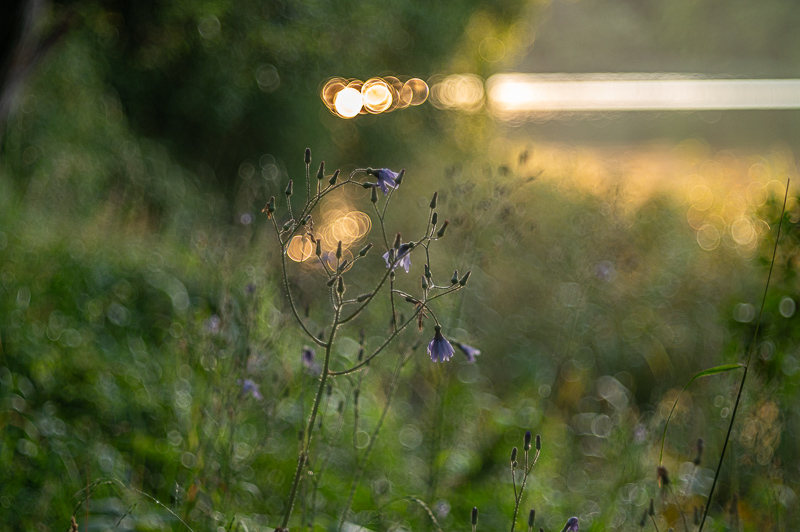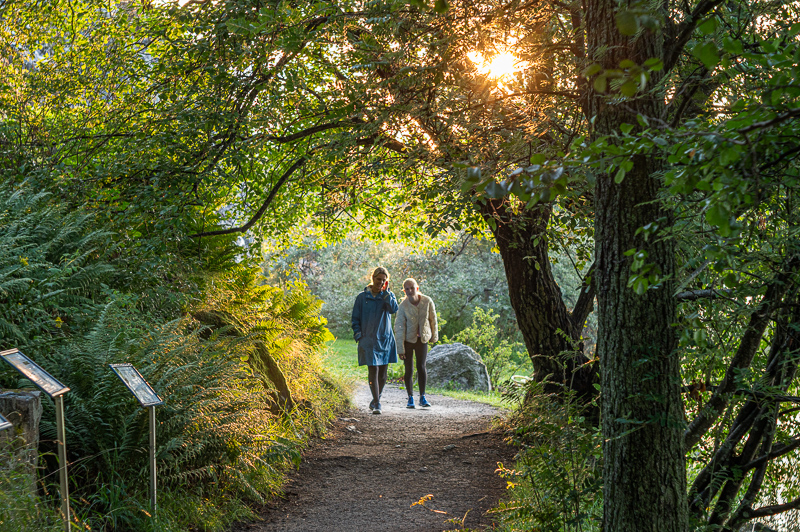 Specifications
Focal Length: 100 mm
Aperture Range: f/2.8 – f/22
Number of Aperture Blades: 13
Min Focus: 0.9 m
Filter Size: 49 mm
Lens Mount: M42
Weight: 318g (with the metal front cap)
Diameter x Length: 58 mm x 80 mm
Elements/Group: 3/3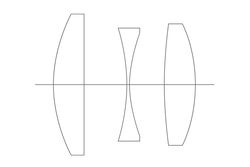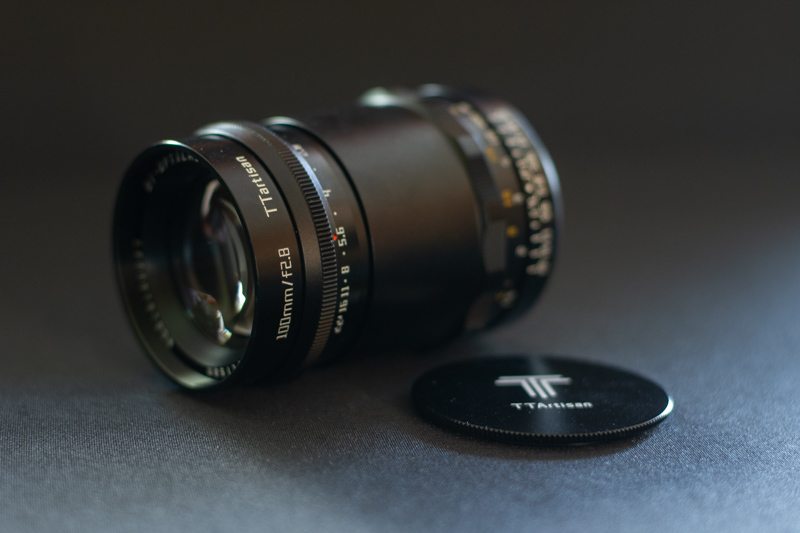 Variations
Well, this is a "new" lens and there are no variations of it but there have been others suspiciously very similar lenses. The original Meyer-Optik Görlitz 100/2.9 from 1956.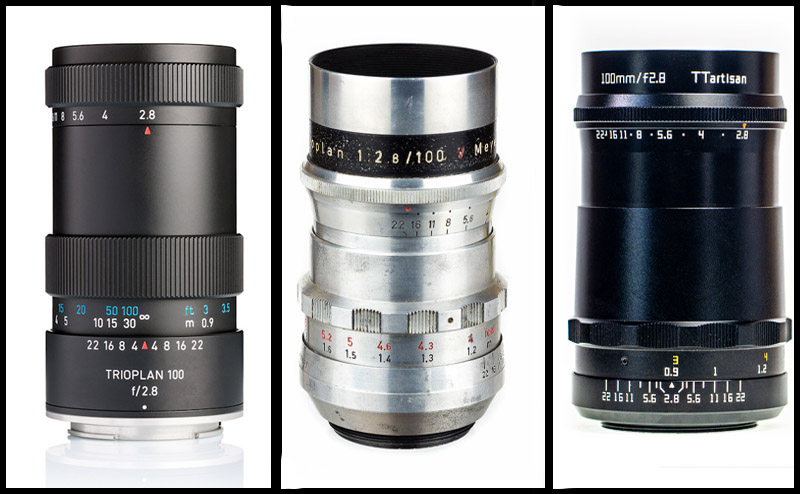 Handling
Completely manual, focus and aperture can only be set manually, no stabilization, no exif or any other info to the camera. The lens is quite small for being a 100mm, built completely of metal with engraved scale markings filled with paint for aperture values, distance (in m and ft), depth of field scale and the lens/manufacturer's name, quite stylish and nice actually. It comes only in M42 mount and is shipped with desired mount adapter, most probably for keeping the manufacturing cost and the price as low as possible. The aperture ring has click stops at variable distance between each stop, as you go from wide open to closed aperture the distance between stops gets smaller. Between 2.8 and 11 there are click stops between each pair of full stops but from 11 to 22 there are no intermediate half stops. The aperture ring clicks smoothly and distinctly but the focusing ring has just OK resistance, not very stiff but not very smooth either. The lens cap is of metal and unlike most other lens caps screws in the filter thread, which is 49 mm. No lens hood is provided.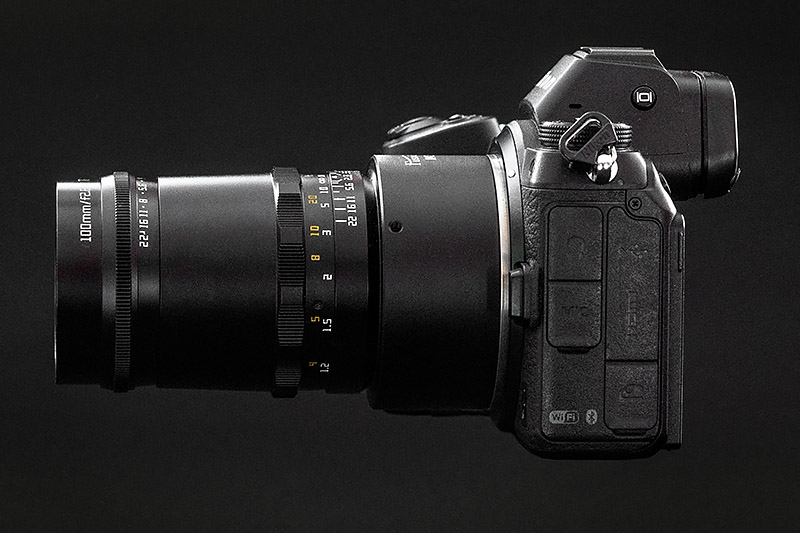 Optical Features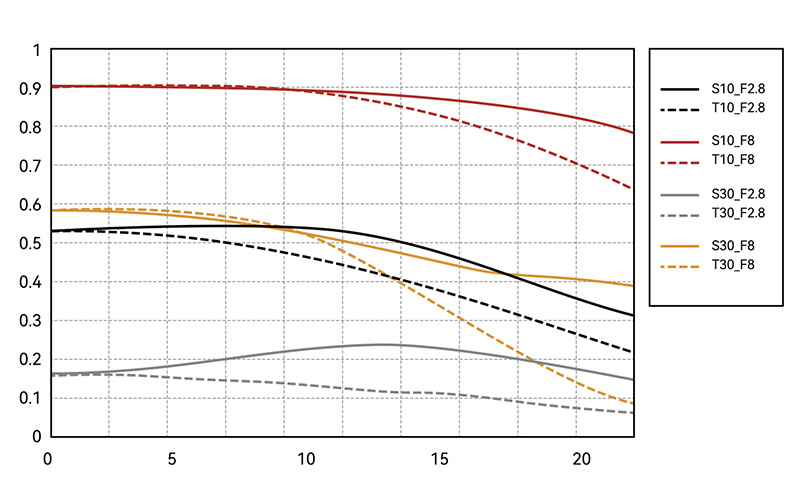 Well, just by looking at the manufacturer provided MTF chart the good things that you can read is that the lens has very good correction of astigmatism and lateral aberration in the center and out to the midframe, excellent contrast and somewhat good sharpness at f/8. There is no field curvature to expect either at any aperture. Another good thing is the sharpness and contrast, at whatever level they are, don't fall at all to about the mid-frame and start to deteriorate just moderately from mid-frame to the corners. But you should not expect any good sharpness or excellent contrast at f/2.8, not a disaster either, possibly they are usable in real life. There is also an indication that you can get good bubble bokeh rings in the corners. All these are just indications for what could be expected with a pinch of salt and nothing more. Let's see how it performs in real life.
Sharpness (Infinity)
For the infinity sharpness test, we look at three areas of the image, center, mid-frame and corner, see highlighted areas in the image below!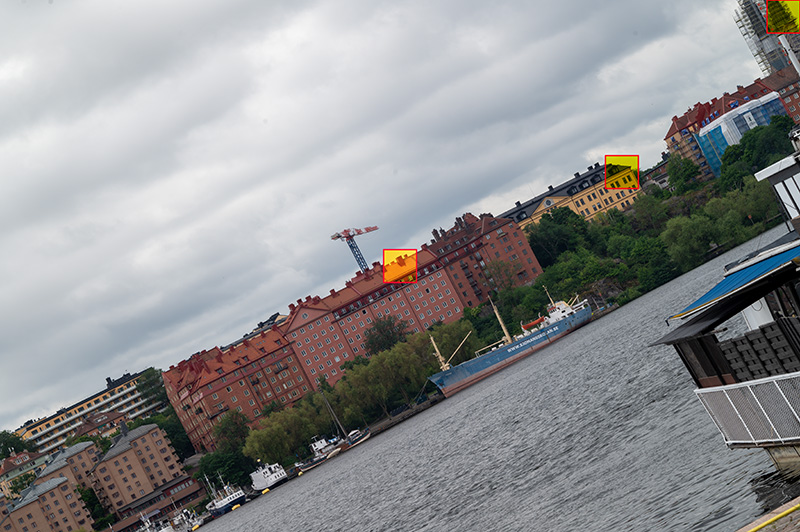 F/2.8: Center sharpness is just OK, it is usable but may need some boost in post processing, contrast is low. Mid-frame is close to center but not as good, it is usable, cornet is just bad.
F/4: Center is now completely OK and mid-frame is usable with boost in post. Corners are still bad.
F/5.6: Center now at good level, a little improvement in mid-frame, corners look better but not usable yet.
F/8: Both center and mid-frame are very good now, corners still too soft.
F/11: Center and mid-frame are still good and at last the corners reach an acceptable level.
F/16: Sharpness and contrast decreases in the center a little but still at a good level, mid-frame and corner are good.
F/22: Sharpness and contrast decrease a little more across the whole frame.
Sharpness (Portrait)
We look at the sharpness at portrait distance, for this lens about 2.4 m, at three points important for portraits, center, Inner center periphery and outer center periphery. As the lens's widest aperture is the modest f/2.8, I tested the lens for portrait sharpness at half stops at f/2.8, f/3.3 and f/4.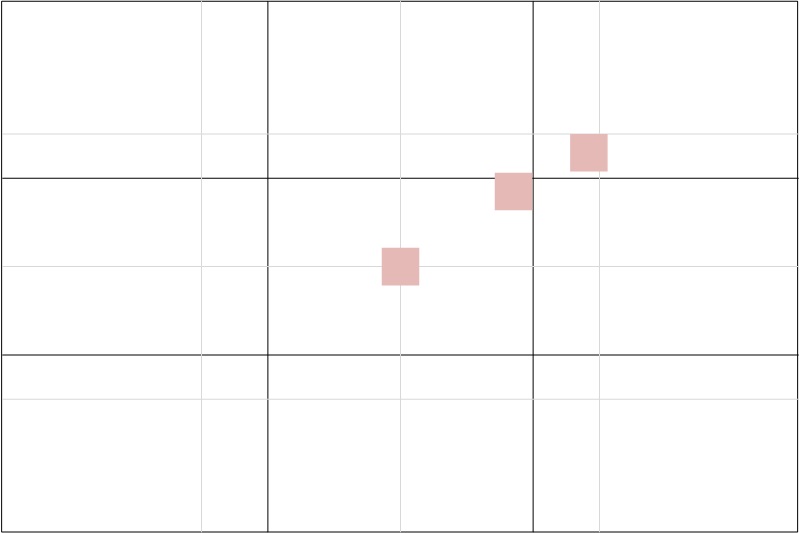 At f/2.8 the sharpness in the center and inner center periphery is completely OK but contrast is low. The outer periphery has the same sharpness but lower contrast. Each half stop of smaller aperture gives clearly visible improvements to both sharpness and contrast. As we could see in the MTF chart there is not much decrease in sharpness and contrast from the center to the mid-frame and we can see it here too that sharpness and contrast does not get any worse from center to the inner circle periphery point, which is within the mid-frame circle. But there is some decrease in both contrast and sharpness at the outer periphery circle, which is further away from the mid-frame.
Sharpness (Close-up)
We test the closeup sharpness and contrast only in the center of the image.
At about the minimum focusing distance the lens is quite soft with low contrast at f/2.8 but usable. At f/4 the sharpness and contrast get a boost to good levels. The lens seems to reach its max performance at F/5.6 and is still very good at f/8. At f/11 the diffraction effect creeps in and degrades the sharpness a little. the sharpness gets another hit at f/16. At f/22 the sharpness falls abruptly to very soft. This is again better than I expected.
Lens Distortion
TTArtisan 100/2.8 has a negligible amount of pincushion distortion, normally there is no need to correct this. This is very good. Also, as this lens's applications do not require perfect distortion correction, this can just be ignored in almost all use cases of it.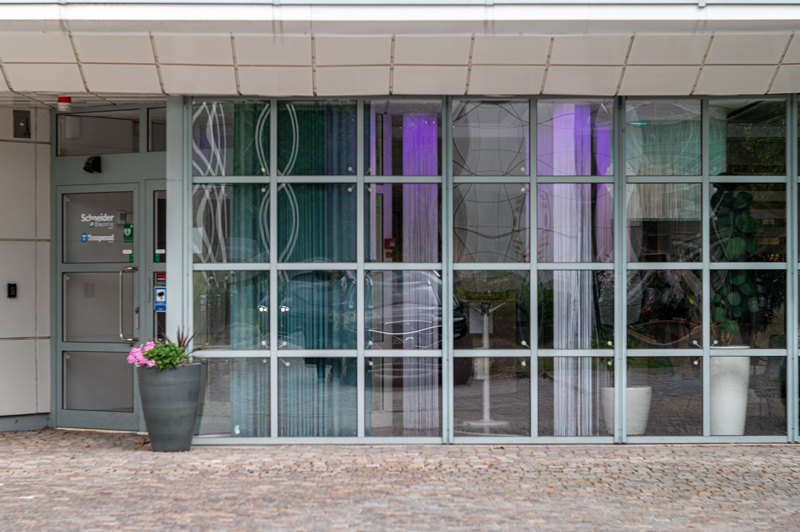 Vignetting
The lens shows very low vignetting. At f2.8 there is only 2/3 of a stop vignetting, which improves to 1/3 of a stop at f/4. Further closing of the aperture does not make much difference. Very good indeed.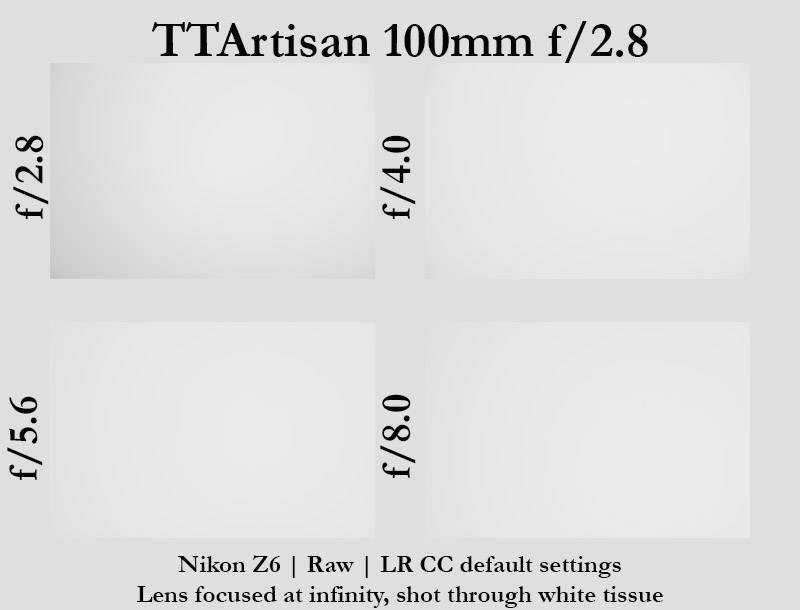 Flare Resistance
The lens has, as expected, some problems with flares, it is a very old design and there is no mention of any advanced coating and thereof the lack of flare resistance. Although this has been part of the attraction of this lens for some. Here you can see what to expect if you are not cautious with the placement of sun in or near the image frame unless you want to use the flare creatively.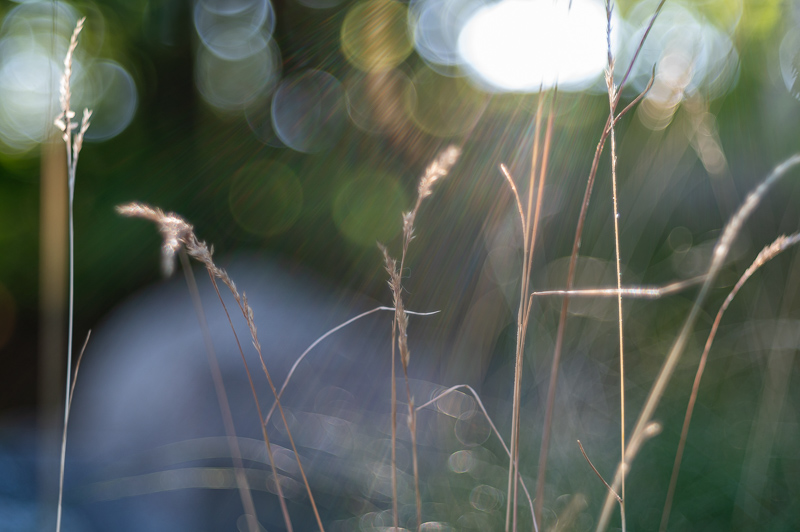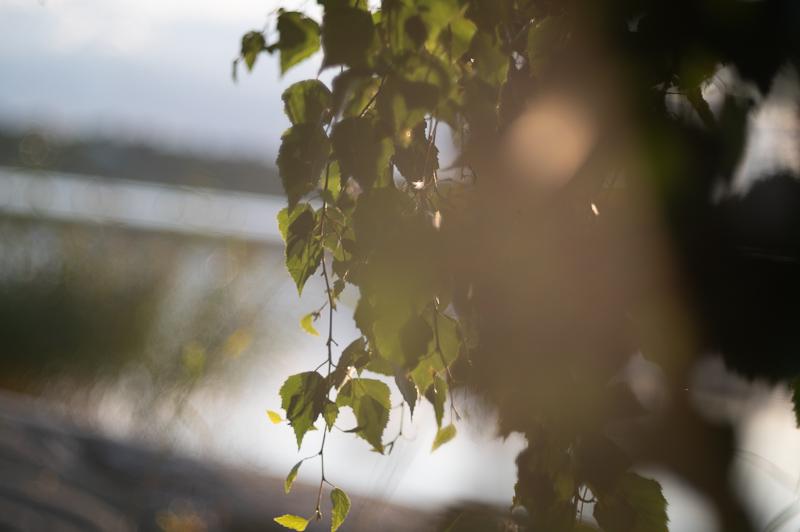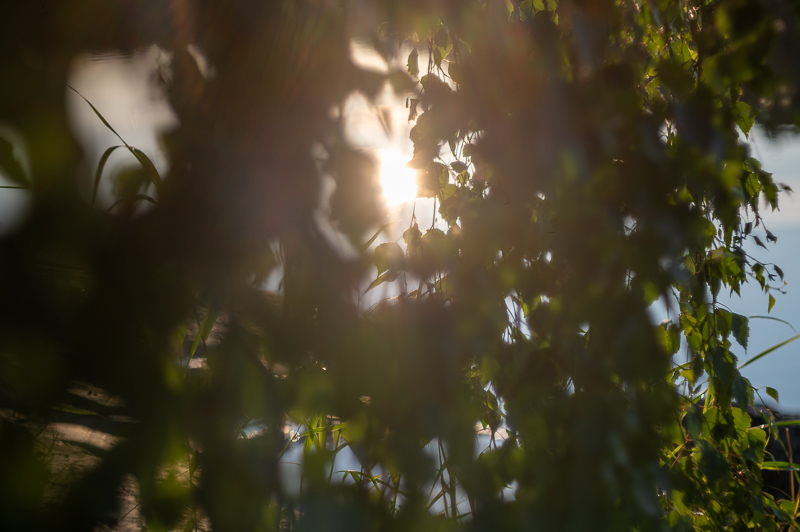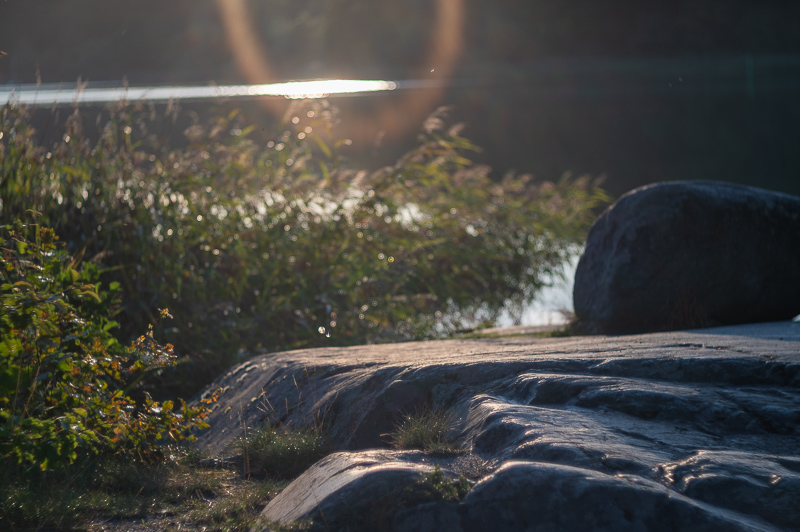 Chromatic Aberrations
There is not much sagittal chromatic aberration visible in the images. Good performance here but you can clearly see the longitudinal chromatic aberration as green and purple fringing at f/2.8 that reduces by stopping down. At f/5.6 it is cleared up. 
Focus Shift
The lens shows positively surprising low to no focus shift to worry about, so it is good. 
Coma
Testing coma is actually irrelevant for this lens but to be consistent and cover this aspect too, here it is. There is some coma at f/2.8, though not so bad. It improves quickly and a lot by stopping down and is almost gone by f/5.6.
Sunstars
In this category I am a little impressed, not because this lens creates sunstars that can compete with the best sunstars created by some other lenses but because it can create any sunstars at all. I mean, 13 rounded aperture blades are hardly to be expected to be able to create any sunstars worth mentioning, but as a matter of fact this lens manages to do it. It can create sunstars at smaller apertures, 26 pointed versions of them to be more precise. Quite unique or at least very rare actually and maybe not very well defined but nice.
Focus Breathing
Yes, the lens suffers from severe focus breathing.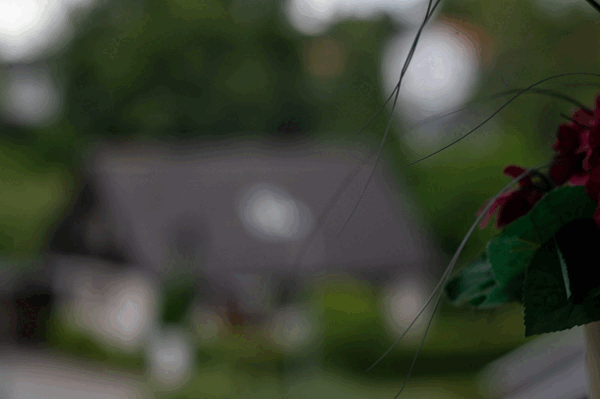 Bokeh
Well, this must be the main (if not the only) feature of real interest for anybody who reads this article or buys the lens. This lens can indeed create quite interesting bokeh in the right conditions, the soap bubble bokeh. The lens can certainly create one of the best soap bubble bokehs I have seen, if you manage to find those right conditions though. It can even become too much in certain conditions (fourth image in this section), but that is a matter of personal taste. Even if the conditions are not right, the 13 rounded apertures are capable of rendering very soft and pleasant "traditional" bokeh even stopped down a little (the second and third images). Another good feature with the bokeh is that the lens vignetting is not prominent at all so the bokeh balls look equally beautiful, more or less circular without any truncating all over the frame.
Not everybody likes this kind of soap bubble bokeh though but if you do, it certainly can deliver it.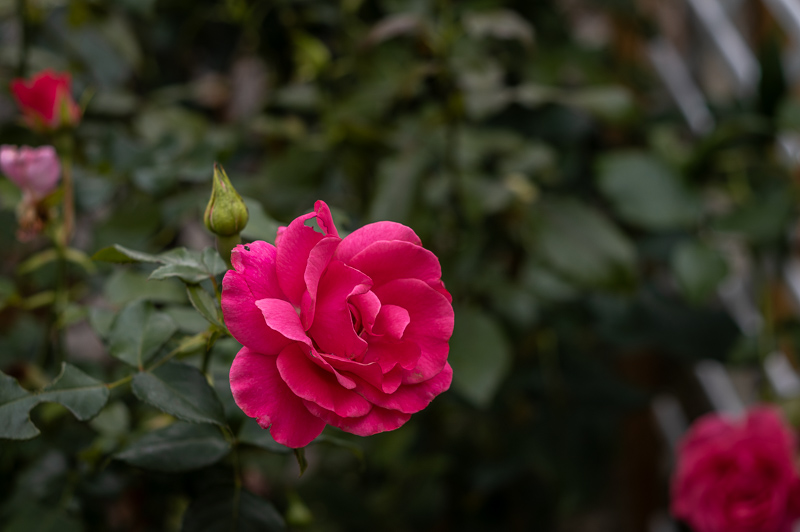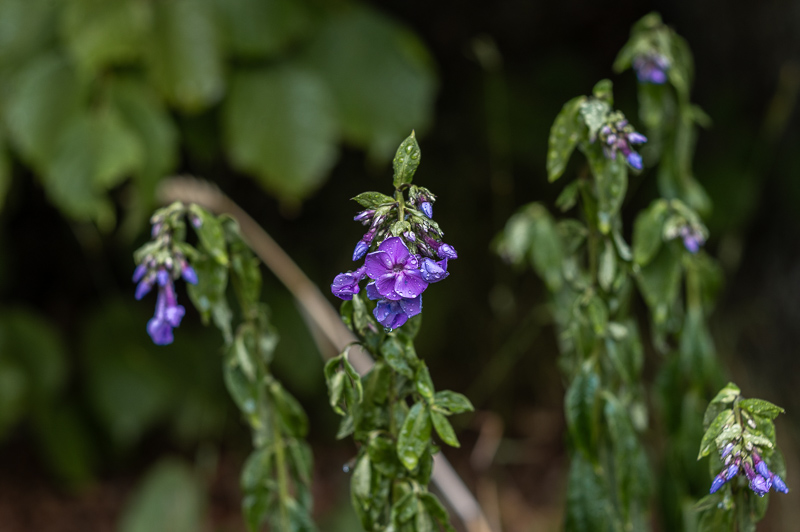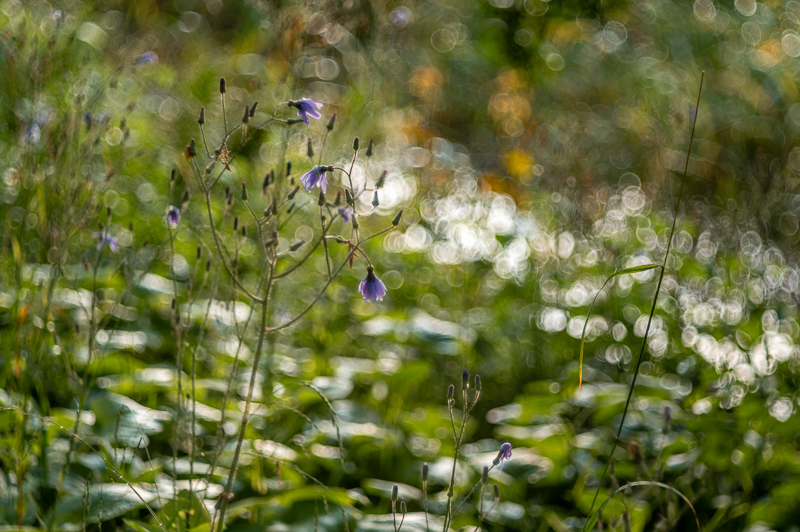 Conclusion
I LIKE
AVERAGE
I DON'T LIKE
Bokeh
Price
Size
Vignetting control
Center sharpness
Aberrations
Distortion
Sunstars +
Corner sharpness
Across the frame sharpness
No electronic contacts for Exif
This is a special purpose lens and not a lens for everyday photography. A lens with an optical construction from over 100 years ago, used over 65 years ago in a lens with the same focal length, same max aperture, and even a look that resembles a lot that old lens. It is obvious what TTArtisan wanted to create; a new Trioplan, which has been so popular for its soap bubble bokeh and TTArtisan created this lens mainly to create or mimic that bokeh effect and they have succeeded. With modern manufacturing technology they have created a lens with a very similar effect to (if not better than) the original one. It can not only create the bubble bokeh effect, but also the traditional dreamy soft glowy bokeh for portraits or other creative works, and that with quite good sharpness in the frame center, where it does matter for this lens's applications. Of course Meyer-Optik Görlitz has also done it and you can buy a new Trioplan 100mm f/2.8 made by them but that one costs around €1000 Euro new, while the TTArtisan 100/2.8 costs only $155 in their own online store, which reflects the actual value of a very simple 3 glass element lens.  You can also buy the original Trioplan on eBay, but it will not cost less, and you have no warranty either, besides you buy a 65-year-old lens with glass that was ground with that time's machines and technology. All in all, if you like this effect, irrespective of the price, I highly recommend this lens, the low and fair price for a new lens is a welcome bonus.
If you are interested in buying this lens or any of the lenses in the Alternatives section, you can support our efforts by using the links below or given under each lens. It won't cost you a penny and it won't affect the price, but it will help us a little.
Buy it new: TTArtisan Store for $155 (Affiliate links)
Alternatives
This will not be an exhaustive list of all the lenses that can create soap bubble bokeh. It just gives a few alternatives to be considered. 
Meyer-Optik Görlitz Trioplan 100/2.8
This is the original lens that created such hype during the new era of photography, the digital era. It can create very nice soap bubble bokeh in the right conditions. You can either the original 45-60 years old ones from about $200-$600 depending on the condition or a brand new one for $999
Buy new: amazon.com   for $999 (Affiliate links)
Buy from: ebay.com, ebay.de, ebay.co.uk, ebay.com.au (affiliate links) 
Meyer-Optik Görlitz Trioplan 50/2.9
This is the 50mm version of the legendary Trioplan series also with admittedly nice soap bubble bokeh. This is also a lens the new Meyer-Optik Görlitz has revived and can be bought new
Buy new: Amazon.com, Amazon.de, amazon.co.uk, Amazon.fr for $ (Affiliate links)
Buy from: ebay.com, ebay.de, ebay.co.uk, ebay.fr, ebay.com.au (affiliate links) 
Meyer-Optik Görlitz Domiplan 50/2.8
Another tiny lens from Meyer-Optik Görlitz with very nice soap bubble bokeh but this one is inferior to the Trioplan 50mm in optical and build quality but possibly the cheapest soap bubble bokeh lens you can find.  ($20-$60)
Buy used: ebay.com, ebay.de, ebay.co.uk, ebay.fr, ebay.com.au  (Affiliate links)
Meyer-Optik Görlitz Primotar 135/3.5
Yet another Meyer-Optik Görlitz lens with a Tessar design, which can produce beautiful soap bubble bokeh but with a longer focal length if you prefer that, costs about $80-$200 on ebay.
Buy used: ebay.com, ebay.de, ebay.co.uk, ebay.fr, ebay.com.au  (Affiliate links)

Meyer-Optic Görlitz Oreston 50/1.8
This is another optically not so good lens, but it can create some kind of painterly bokeh in certain conditions, also this one has just or barely OK center sharpness wide open, the rest of the frame is bad actually. Stopped down it gets better but it should be considered only for its bokeh, especially on APS-C cameras.
Buy from: ebay.com, ebay.de, ebay.co.uk, ebay.com.au (affiliate links) 
Pentacon 50/1.8
This is actually the same lens as the aforementioned lens. When Meyer-Optik Görlitz and Pentacon merged, they decided to keep the Pentacon name for the company and their products. Then they re-badged the Oreston and sold exactly the same lens as Pentacon 50/1.8. As these ones are newer, after a couple of years the lenses got multi-coating, which gives the later version an advantage over the earlier ones and the Oreston lenses.
Buy from: ebay.com, ebay.de, ebay.co.uk, ebay.com.au (affiliate links) 
More Sample Images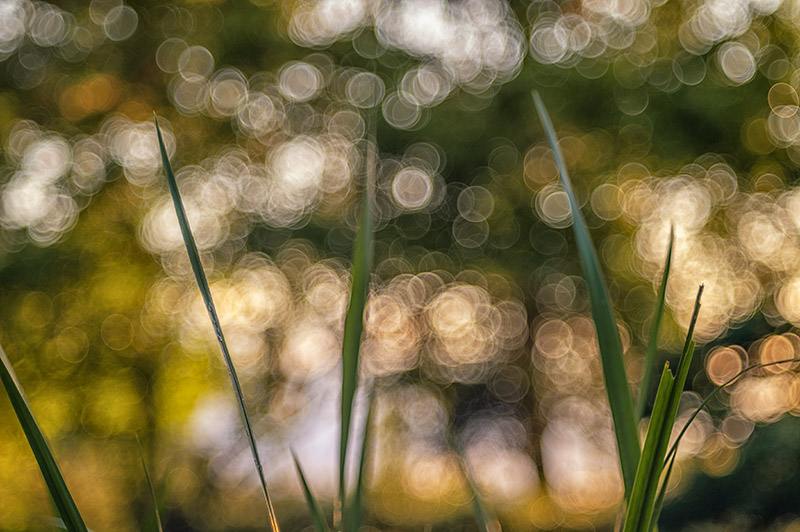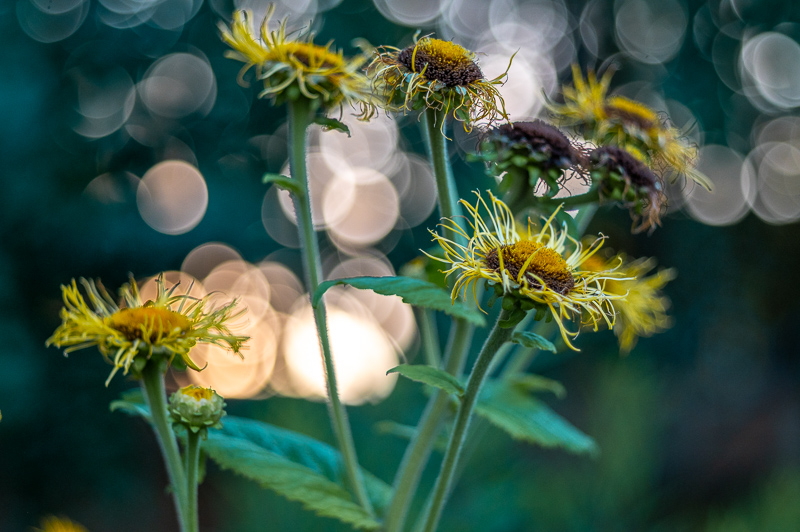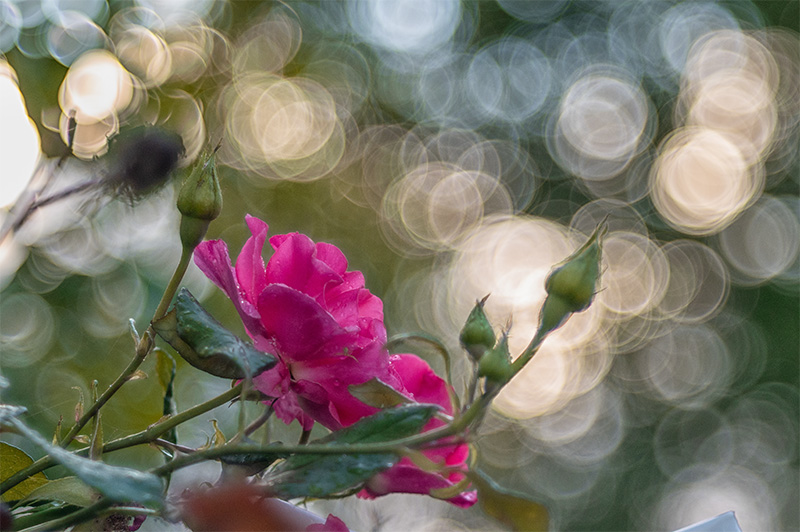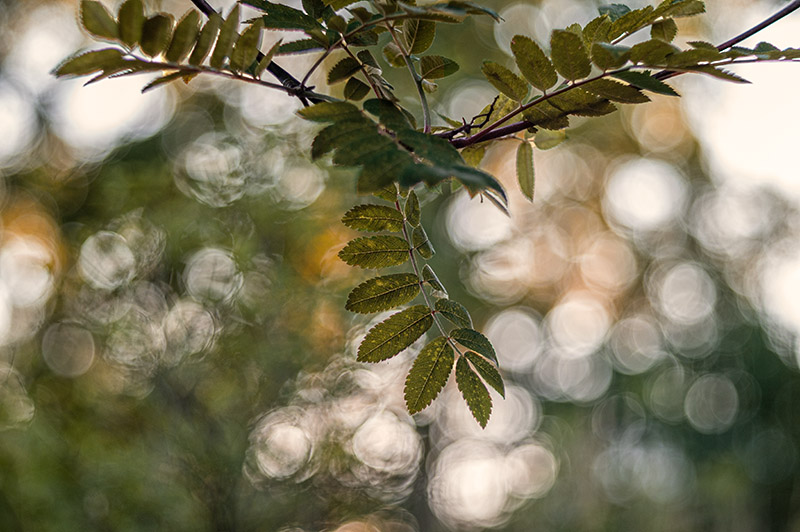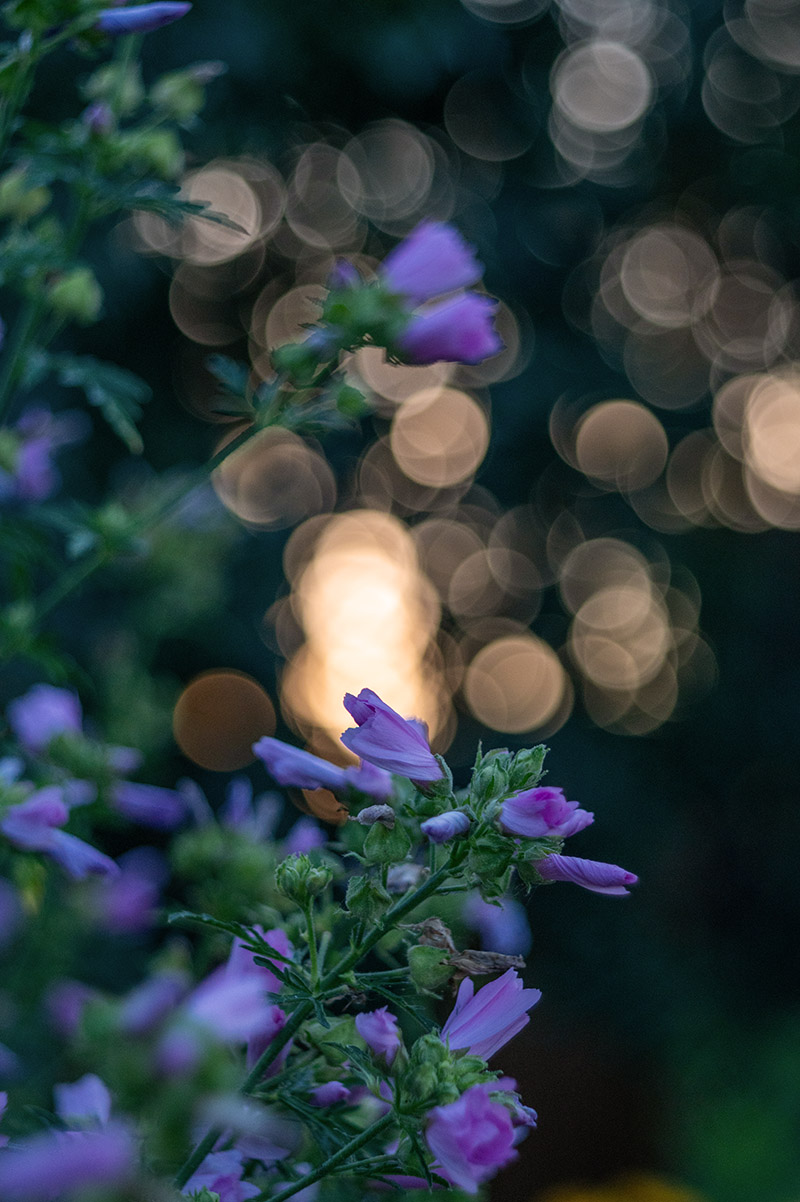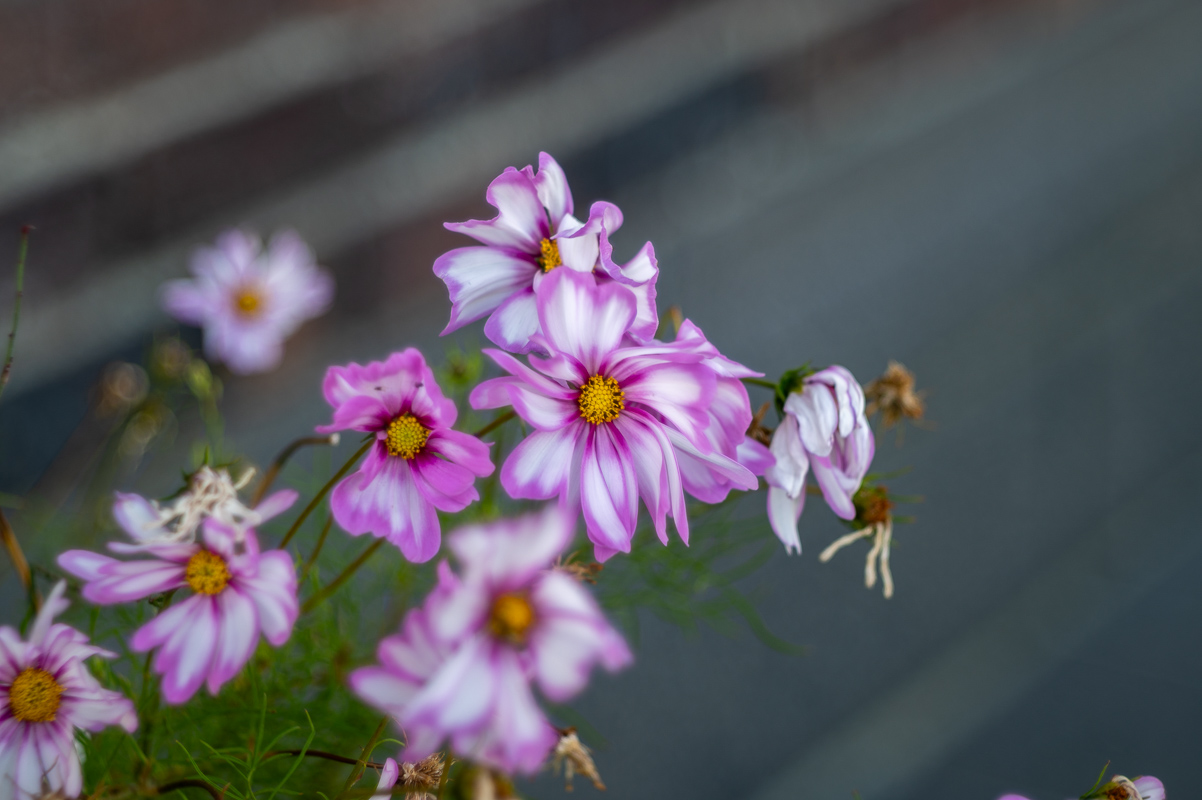 Further Reading
Support Us
Did you find this article useful or just liked reading it? Treat us to a coffee!

(Donations via Paypal)
The post Review: TTArtisan 100mm f/2.8 – A modern and affordable Trioplan? appeared first on phillipreeve.net.