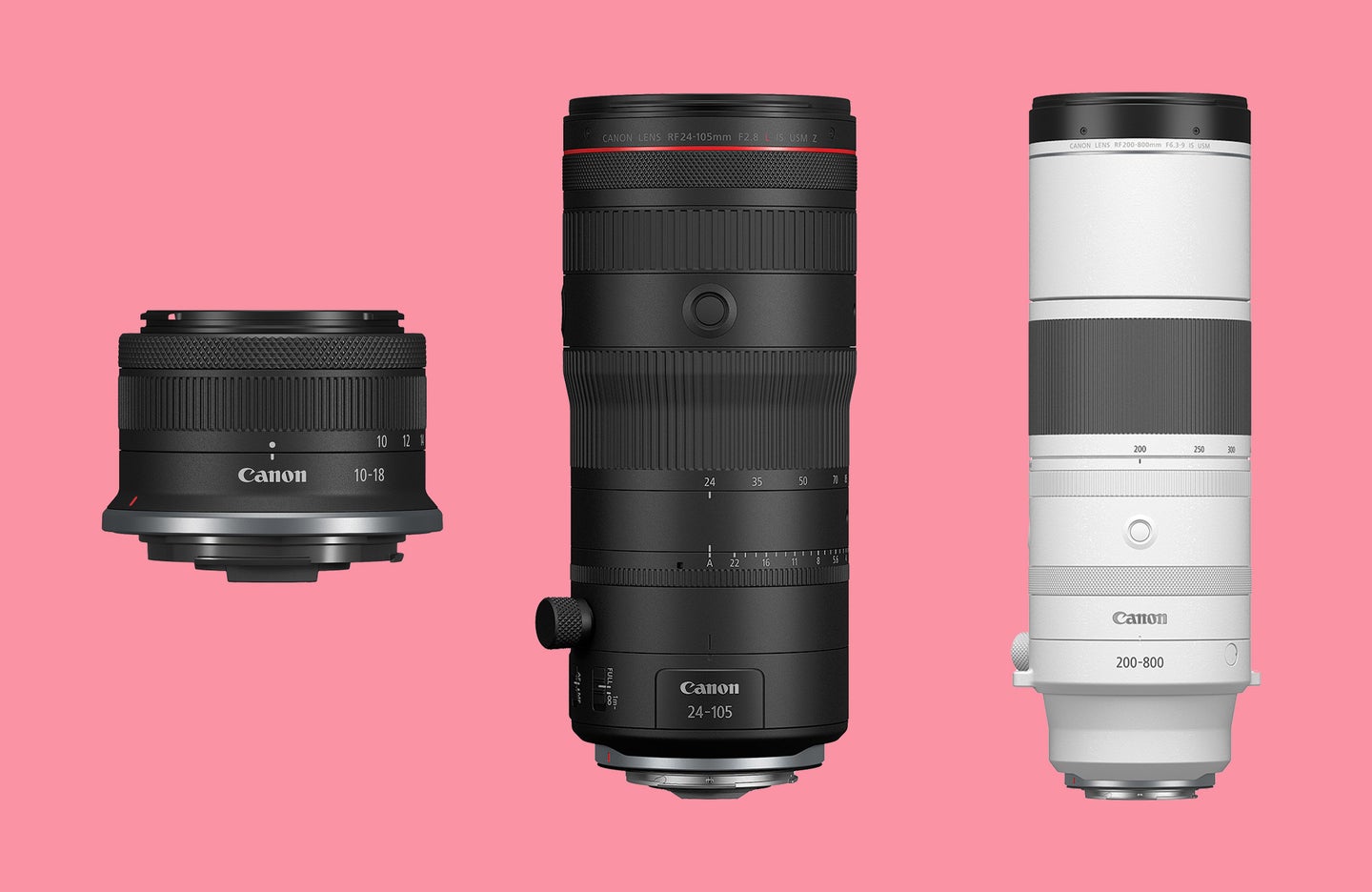 Canon is offering up some holiday treats as we head into winter. The company has announced two new full-frame RF lenses, one APS-C RF lens, a Power Zoom Adapter, and firmware updates for the EOS C70 and EOS R5 C cameras. The three new lenses cover everything from wide-angle to ultra-telephoto, offering a bit of something for everyone. They include the RF-S10-18mm F4.5-6.3 IS STM, the RF24-105mm F2.8 L IS USM Z, and the RF200-800mm F6.3-9 IS USM. There's lots to unpack here, so let's get into it.
Canon RF24-105mm F2.8 L IS USM Z
We are especially excited to see the RF24-105mm F2.8 L IS USM Z. This lens is the world's first 24-105mm focal length lens with a consistent f/2.8 maximum aperture. Canon designed the RF24-105mm as a hybrid lens, tailoring it to high-level video content creators and video production individuals or firms. It did specify that this is not a cinema lens but does approach that category with new features.
Though it offers many video-centric features, it should also be a superb still photography lens. The 24-70mm has long been the workhorse lens for many photographers, but we could see this extended range becoming the new go-to for many. The fast and constant f/2.8 aperture will offer excellent low-light performance, adding to its versatility. It will be ideal for a vast number of applications, including portraits, weddings and events, fashion, photojournalism, sports, wildlife, and more.
RF24-105mm F2.8 L IS USM Z build & design features
Canon's RF24-105mm offers a constant overall length when zooming and focusing, which is a big advantage for videographers. It also offers a stepless manual aperture ring for video use. Canon optimized the optical design for high-end video, with excellent focus breathing performance and superb image quality. The image stabilization results in 5.5 stops of optical IS or eight stops of coordinated IS.
The lens can focus as close as 1.5 feet at all focal lengths and offers a maximum magnification of 0.29x at 105mm. Two Nano USM focus motors drive the autofocus system, resulting in fast and accurate focusing abilities. Its 11 aperture blades provide beautifully smooth bokeh.
The RF24-105mm weighs 2.9 pounds and is 7.8 inches long. It offers an 82mm filter thread.
Power Zoom Adapters
For videographers, one of the most exciting aspects of this new lens is the option to use a newly developed Power Zoom Adapter. This new optional accessory will connect to the side of the RF24-105mm without any tools required. It enables super-smooth zoom control when recording video. Zooming will look more natural, and it will make control easier for solo creators.
Canon is making two different versions of the Power Zoom Adapter. You can opt for a standard version (PZ-E2) with only a USB port or a 20-pin port version (PZ-E2B) to support zoom and focus demands. It's important to note that, as of now, the Power Zoom Adapter is only compatible with the RF24-105mm.
Pricing & availability
The Canon RF24-105mm F2.8 L IS USM Z will be available in December, though is available for pre-order now for $2,999.00.
Both versions of the Power Zoom Adapter won't be available until the spring of 2024, but you can already pre-order both. The standard version (PZ-E2) is priced at $999.00, while the 20-pin port version (PZ-E2B) is $1,299.00.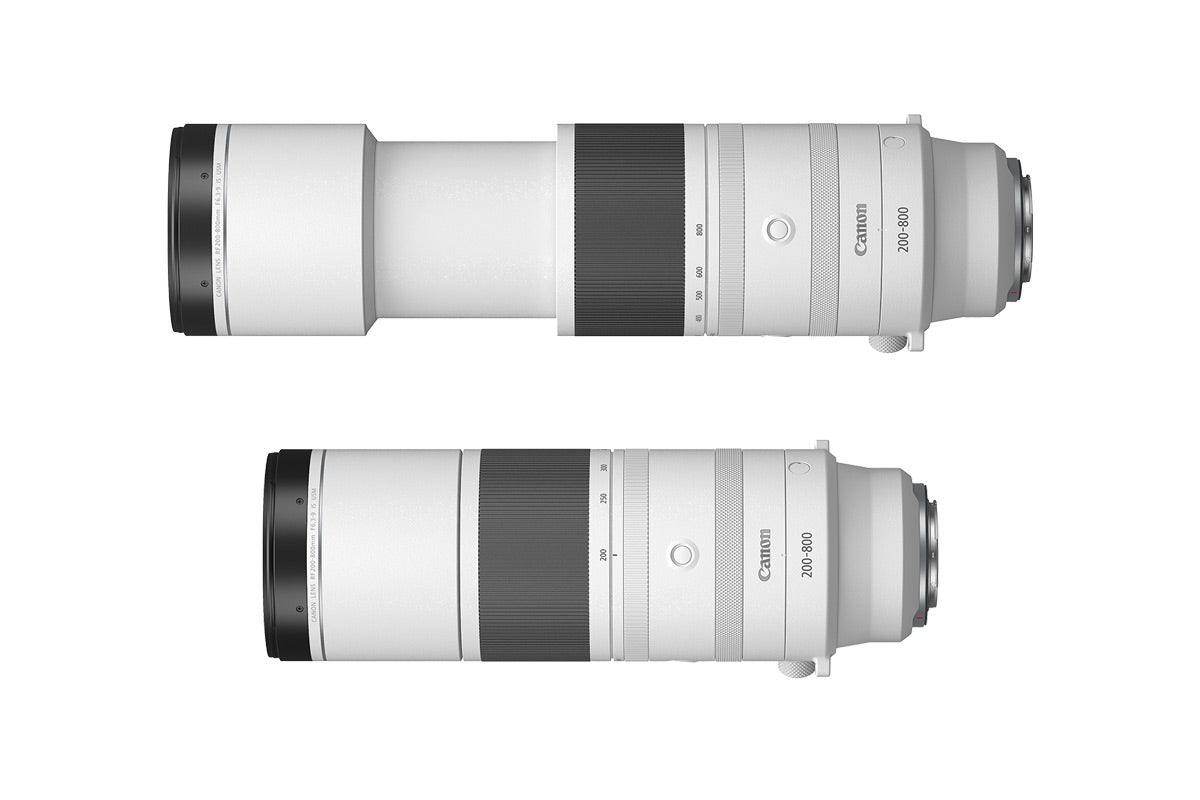 Canon RF200-800mm F6.3-9 IS USM
For those who need ultimate telephoto reach, the RF200-800 F6.3-9 IS USM should fit the bill. This lens is impressive for many reasons, most notably the range it offers. There are not many zoom lenses that offer a maximum focal length of 800mm, with most topping out at 600mm. And at $1,899, it's very reasonably priced for what it provides. For context, Nikon's new NIKKOR Z 180-600mm f/5.6-6.3 VR lens is $1,696.95, so you'll get 200mm more reach for roughly $200 more.
Its long reach makes it perfect for photojournalism, wildlife, outdoor sports, and dramatic landscapes. Should you need even more zoom power, it's compatible with the Canon RF 1.4x and 2x tele extenders, which will get you up to a whopping 1600mm.
The maximum aperture varies from f/6.3 at the wide end to f/9 when zoomed in, so its low-light capabilities are slightly limited. But as we would expect on such a lens, it offers image stabilization to assist with obtaining sharp images even when handholding the lens. You'll get 5.5 stops of correction at 800mm, and 7.5 stops at 200mm. It also offers automatic panning detection.
RF200-800mm F6.3-9 IS USM design & features
The RF200-800mm uses an extending lens design, meaning it gets longer when you zoom in. Even though this lens isn't in Canon's pro-level L-series, it did apply weather sealing, meaning it is still durable and protected against the elements despite the extending design. The lens is surprisingly lightweight for what it is, weighing just 4.5 pounds. It should be feasible to shoot handheld for at least short durations. A rotating tripod mount on the lens makes it easy to attach to a tripod as well.
Canon pointed out that even though the lens RF200-800m is white, it is not the IR reflective surface found on the latest L-series lenses. A single, compact Nano USM motor drives the autofocus system, which is fast and quiet. It is a varifocal lens, meaning it won't stay in focus as you zoom in. But Canon promised superb image quality thanks to an optimized optical design.
Pricing & availability
The Canon RF200-800mm F6.3-9 IS USM will be available in December, but you can pre-order it now for $1,899.00.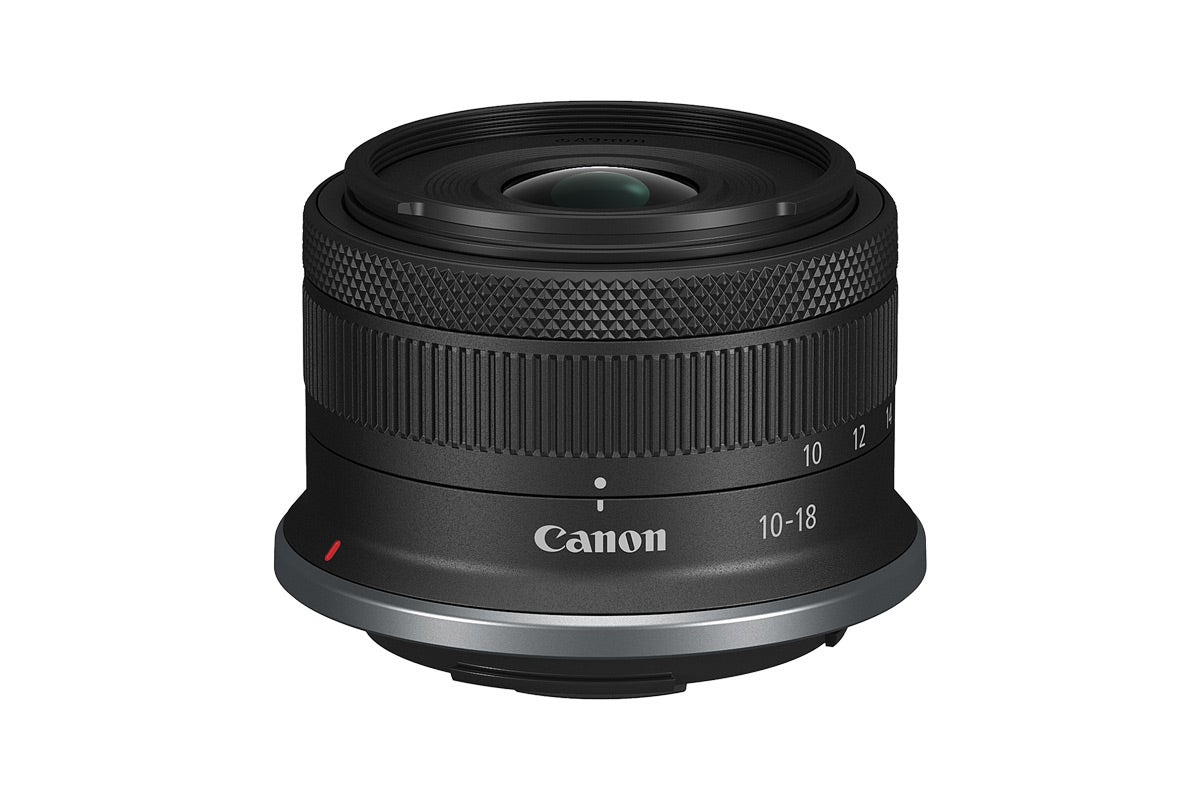 Canon RF-S10-18mm F4.5-6.3 IS STM
The third lens of the new trio is a beginner-friendly APS-C lens. And at just $329, it is extremely budget-friendly as well. The RF-S10-18mm F4.5-6.3 IS STM lens offers a full-frame equivalent view of 16-29mm. Canon designed this lens for video and vlog creators as well as amateur photographers. The wide-angle perspective is ideal for selfie videos, travel videos, and landscape, travel, or architectural photography. For many, this could be the only lens they use on their camera because of its versatility and size. It would pair well with cameras like the R100, R50, or R7.
RF-S10-18mm F4.5-6.3 IS STM design & features
Canon created an entirely new optical design lens for the RF-S10-18mm, one that isn't based on any current Canon lenses. It is absolutely tiny, weighing only 5.3 ounces. It utilizes a collapsible design to maximize its compact size for travel, meaning you'll need to extend it out in order to start shooting. But when collapsed down, it is a measly 1.8 inches.
Surprisingly, Canon included image stabilization on the RF-S10-18mm. You'll get four stops of optical IS and six stops of coordinated IS with your camera's in-body image stabilization. For video users, this can also be combined with Movie Digital IS for added stability, but that will result in a crop. Canon also mentioned that the focus breathing is very well handled with this lens. There is some present, but it is minimal, and some cameras offer focus breathing correction in-camera to improve it even more.
A stepping motor drives the autofocus, and it offers close focusing abilities of 5.5 inches with autofocus at all focal lengths or 3.4 inches at 10mm with manual focus. Unsurprisingly for such a compact, budget-friendly lens, there is no focus switch on the lens, so you'll need to change between manual focus and autofocus in your camera's menus.
Pricing & availability
As with the other two lenses, the Canon RF-S10-18mm F4.5-6.3 IS STM lens will be available in December (just in time for you to pick it up as a Christmas gift for a photographer in your life) and is available for pre-order now for $329.00.
The post Canon adds three new lenses and a Power Zoom accessory to its RF lineup appeared first on Popular Photography.
Articles may contain affiliate links which enable us to share in the revenue of any purchases made.