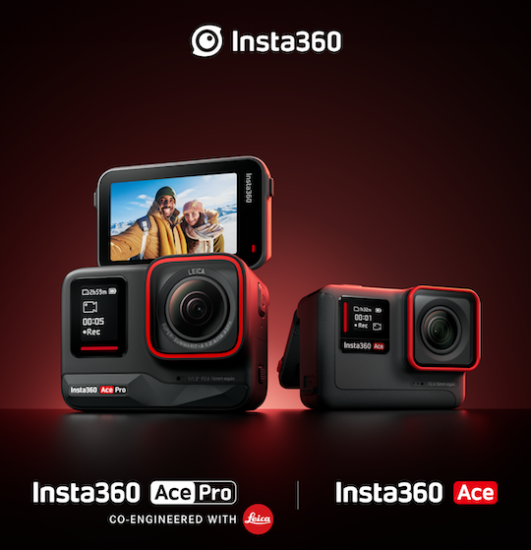 The already leaked Insta360 Ace and Ace Pro action cameras are now officially announced. The flagship Pro version is co-engineered with Leica (1/1.3″ sensor, 5nm AI chip, Leica SUMMARIT lens, 4K120fps video, 48MP photos, PureVideo for low light shooting, PD fast charging to 80% in just 22 minutes, and more).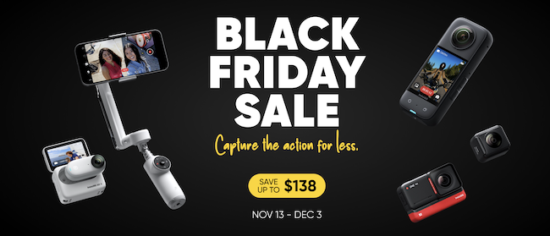 Additional information:
Meet Insta360 Ace & Ace Pro: Unrivaled Image Quality in the Smartest Ever Action Camera
Insta360 is thrilled to announce the release of Insta360 Ace and Insta360 Ace Pro, a pair of groundbreaking, wide-angle action cameras that deliver smarter action capture powered by AI and incredible image quality.
The flagship version of the camera is Insta360 Ace Pro. Co-engineered with Leica, it boasts truly superior imaging performance courtesy of an elite 1/1.3″ sensor, 5nm AI chip, and Leica SUMMARIT lens. Creators can enjoy stunning 4K120fps video, 48MP photos, PureVideo for low light shooting, PD fast charging to 80% in just 22 minutes, and more. Insta360 Ace is the budget-friendly option, with the key differences being a smaller 1/2″ 48MP sensor, regular lens, and standard charging.
Both cameras are also packed full of unique, smart shooting features that utilize the latest in AI developments. Practical elements like a vlogging-friendly 2.4″ flip touchscreen provides excellent creative flexibility. Meanwhile, innovative functions such as the option to pause or cancel a recording, gesture and voice control, plus the brand new AI Highlights Assistant and custom-keyword based AI Warp feature transform the shooting and editing experience.
"With Insta360 Ace and Ace Pro, we're bringing smarter action capture to thrillseekers around the world," shares JK Liu, founder of Insta360. "We're making significant steps in AI, which has allowed us to bring in new features that we think not only make the video creation process easier for users, but unlocks completely new ways to make shots truly stand out."
Unbeatable imaging: day and night.
As a major determinant of a camera's image quality, Ace Pro's premium 1/1.3″ sensor immediately sets it apart from many of its competitors. It captures more light and offers far better dynamic range, making it capable of high-level performance even in fast-moving action scenarios or with challenging lighting. Not only that, but Ace Pro was co-engineered with Leica, bringing all their expertise in optical design and imaging to the camera.
Ace and Ace Pro also have a unique, dedicated shooting mode for low light: PureVideo. Powered by a 5nm AI chip, the cameras use a custom-trained AI neural network to denoise the footage for a clearer image in real time. Meanwhile, that big, beautiful sensor on Ace Pro captures huge levels of detail with impressive stabilization, even at night! This expands the use you'll get out of the camera, from twilight strolls to late-night urban shooting.
During the day, again Ace Pro comes packing heat with built-in Active HDR (High Dynamic Range). This is especially helpful for shooting scenes with both bright and dark areas, with more details in the highlights and shadows and more vibrant footage. A serious amount of work has also gone into color accuracy. Ace Pro delivers accurate and rich colors, excelling even when underwater.
AI is a key element in the overall image quality too. Insta360's dedicated R&D teams have specifically trained computational photography models, based on the cameras' unique lens and sensor data. These models underpin the 48MP Photo Mode and 4K30fps PureVideo, enhancing both the signal-to-noise ratio and dynamic range in low light, surpassing all other action cameras on the market in the process.
A smarter way to shoot, inside and out.
Ace Pro's robust 2.4″ flip touchscreen lets you see exactly what you're shooting at all times, making framing your shots a breeze. This flexibility makes the camera incredibly useful for vlogging, selfies, hard-to-capture angles, and various action scenarios for optimal preview. What's more, a magnetic mounting system lets you quickly mount your camera and seamlessly switch between accessories. Less fussing with screws and knobs, more filming the action.
Internally, a series of new features solve problems that have plagued action enthusiasts for years:
Clarity Zoom – want a close-up but the image quality becomes too poor? Ace Pro can zoom in and out 2x without any loss in quality.
Gesture Control – use hand signals to start/stop recording or take a photo! Perfect for group selfies, noisy environments, or if using voice control doesn't feel right (though it has this function too)
Cancel Recording – failed the trick? Messed up a line? Instantly cancel the recording and go again, saving space on the SD card and fewer files to sort through.
Pause/Resume Recording – time between shots? Hit pause and record to keep everything you want to film in one continuous file for easier file management and editing.
Photo Grab – you're filming a video when an ideal photo op presents itself. Keep filming and take a photo at the same time, but in far higher resolution than a screen grab from the video.
We like to make shooting as easy as possible, but every creator knows that feeling of looking at an intimidating number of files and not knowing where to start. Enter the revolutionary new tool, AI Highlights Assistant.
First, it automatically detects the peak moments in a video, and delivers 'clip highlights' for in-camera review. Creators can merge every thrilling moment into one incredible recap, or choose the ones they like, and quickly delete any unwanted clips to save storage.
And like magic, the Assistant will also edit your latest adventures into one epic video and push it directly to your phone or mobile device via the Insta360 app. Look back on all your Moments and relive unforgettable memories, just like the first time.
The Insta360 app is also packed full of advanced AI editing tools. Take advantage of slick auto-editing tools to have your clips ready in moments, or go manual with our full editing suite. There's really no limit to what you can do.
Unlock your creativity.
The Ace series comes equipped with a unique Stats Dashboard and is the first action camera to integrate seamlessly with your Garmin device or Apple Watch, allowing you to overlay your videos with GPS, speed, and other data. Share your adventures with a new level of detail, whether you're cycling, running, or enjoying the great outdoors.
AI Warp is another new creative tool, the latest addition to Insta360's expanding Shot Lab lineup. Through preset or custom keywords, you can add dynamic effects to your videos. This premium AI feature is highly customizable, giving your footage an incredibly unique twist based off of any prompt you can think of. As Insta360 continues to embrace the game-changing capabilities of AI, you can expect more features added to Shot Lab on the Insta360 app heading into 2024.
The Ace series also features Insta360's signature eye-popping shooting modes, including the ability to shoot timelapses, hyperlapses (in TimeShift mode) and so much more. The infamous Invisible Selfie Stick effect is also possible with the Ace series via the new AI Selfie Stick Eraser, rendering your selfie stick invisible in shots for an immersive third-person experience.
Action anytime, and anywhere.
With their waterproof design, the Ace series can handle depths of up to 33 feet (10 meters). Plus, the Dive Case allows you to take your camera even deeper, down to 196 feet (60 meters).
It isn't just water where these cameras shine, either. They operate smoothly in temperatures as low as -20°C (-4°F), making them ideal for winter sports shooting. The cameras utilize Insta360's cutting-edge FlowState Stabilization technology, ensuring your videos remain incredibly smooth, no matter how intense the action gets. 360° Horizon Lock takes things to the next level by keeping your videos perfectly level, even when you're on the move. So, whether you're racing down a mountain trail or capturing high-speed action shots, your footage will remain steady as a rock.
Ace Pro also prioritizes convenience with fast charging. The battery charges to 80% in just 22 minutes (full charge in 46 minutes), ensuring you spend more time capturing the action and less time waiting.
These action-ready cameras are perfect for outdoor enthusiasts and adventure seekers who demand high-quality performance and durability. Whether you're exploring the ocean or conquering snowy mountain peaks, the Ace series stands ready to capture your most thrilling moments.
Championing winter with Shaun White
Insta360 is excited to announce that legendary snowboarder Shaun White has joined Team Insta360 as a brand ambassador. Shaun White's passion and drive match Insta360's mission to capture the boldest action out there.
"I'm excited to be joining up with Insta360," says Shaun White. "I like what I see with the new Ace series, so naturally I'm stoked to collaborate with the team at Insta360 and explore some of the incredible possibilities this camera can offer."
The post Insta360 Ace and Ace Pro action cameras officially announced appeared first on Photo Rumors.