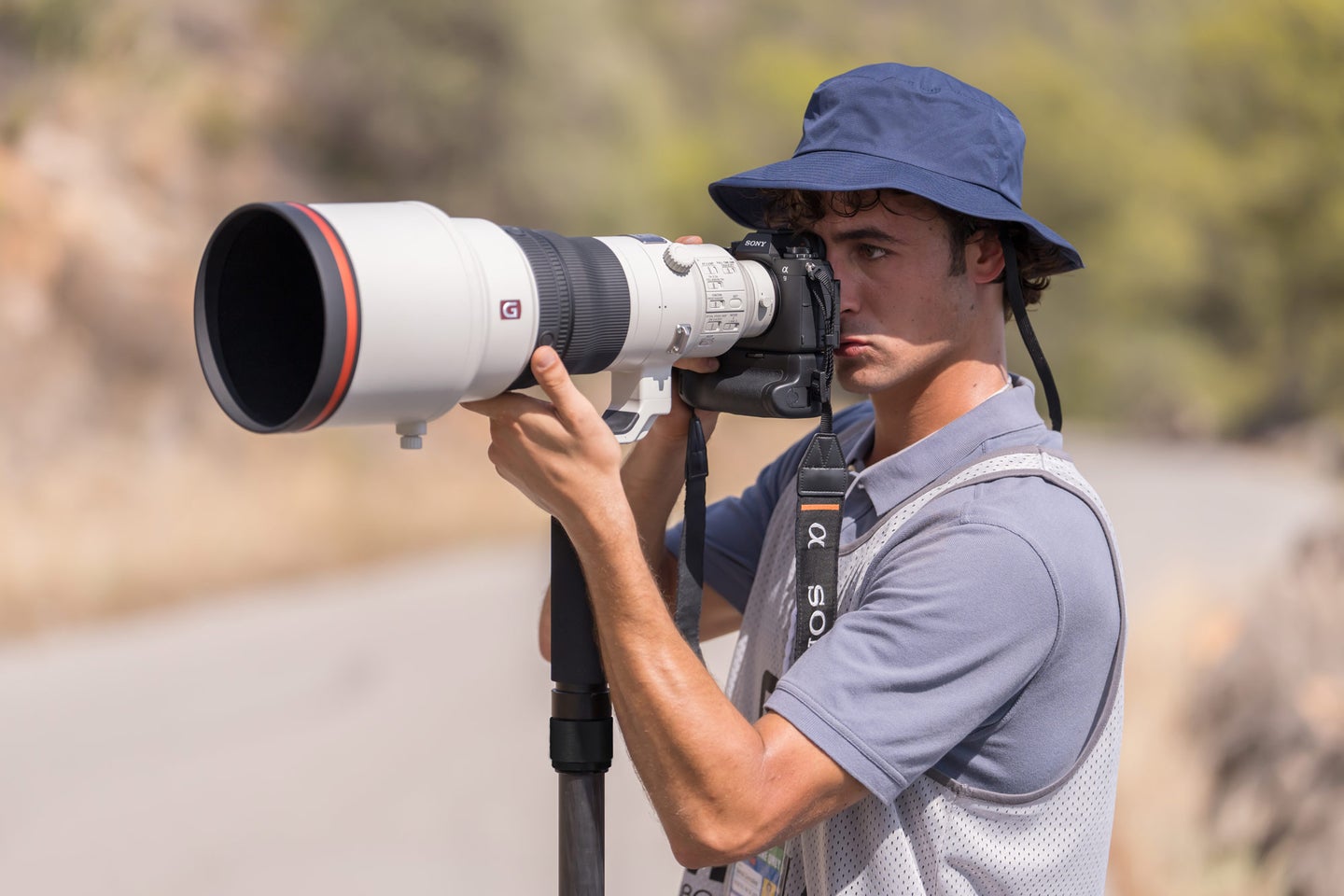 We thought the Sony a1 was an impressive camera, but the image-making company has just topped it with its latest release. The main highlight of the newly released a9 III is its global shutter, the world's first for a full-frame mirrorless camera. The unique shutter design, along with a powerful Bionz XR processor, allows for a host of impressive specs, including 120 fps, 1/80,000 max shutter speed, and flash sync at any shutter speed. Additionally, the company also announced the FE 300mm F2.8 G Master OSS lens, which offers superb reach and performance in a relatively compact body.
Sony a9 III camera at a glance
24.6-megapixel sensor with Bionz XR processor
Global sensor exposes and reads every pixel at the same time
120 fps blackout-free burst shooting
Improved ergonomics
1/80,000 maximum shutter speed
Flash sync at any shutter speed
759 AF points with more sizes of focus area spots
8-stops of optical in-body image stabilization
6K oversampling for 4K 60p movies
4K 120p video without cropping
Weighs 1.4 pounds
Available in spring 2024 for $5,999
What is a global shutter?
The star of the show for the a9 III is, by far, its global shutter. Global shutter technology isn't new, with a handful of cinema cameras utilizing it over the past few years. But the Sony a9 III is the first full-frame mirrorless camera to jump on board. So, why does that even matter? What is a global shutter?
Currently, most cameras rely on a rolling shutter. With the rolling shutter design, the camera's sensor receives and reads information line by line from top to bottom. This means that there is a delay between the first line of data and the last. That delay can cause problems when capturing fast-moving subjects in photos or videos, resulting in warping and distortion. You likely have seen this in helicopter rotor blades. In photos, those blades can appear curved or bent when in reality, they are straight.
The global shutter design solves this problem by exposing and reading every single pixel on the sensor at the exact same time. That means that the Sony a9 III will benefit from zero distortion in stills and video, which is a significant advantage for those shooting action. It also allows for a range of other benefits, including the ability to work with flash at any shutter speed, including the camera's max shutter speed of 1/80,000 (no, that's not an extra zero). This unlimited flash sync even works with third-party flashes. Additionally, there will be no banding from artificial lights or displays. To aid in this, Sony has also employed an Anti-Flicker mode that automatically syncs the shutter with the brightest point in the light's cycle to keep the exposure consistent in photos and videos.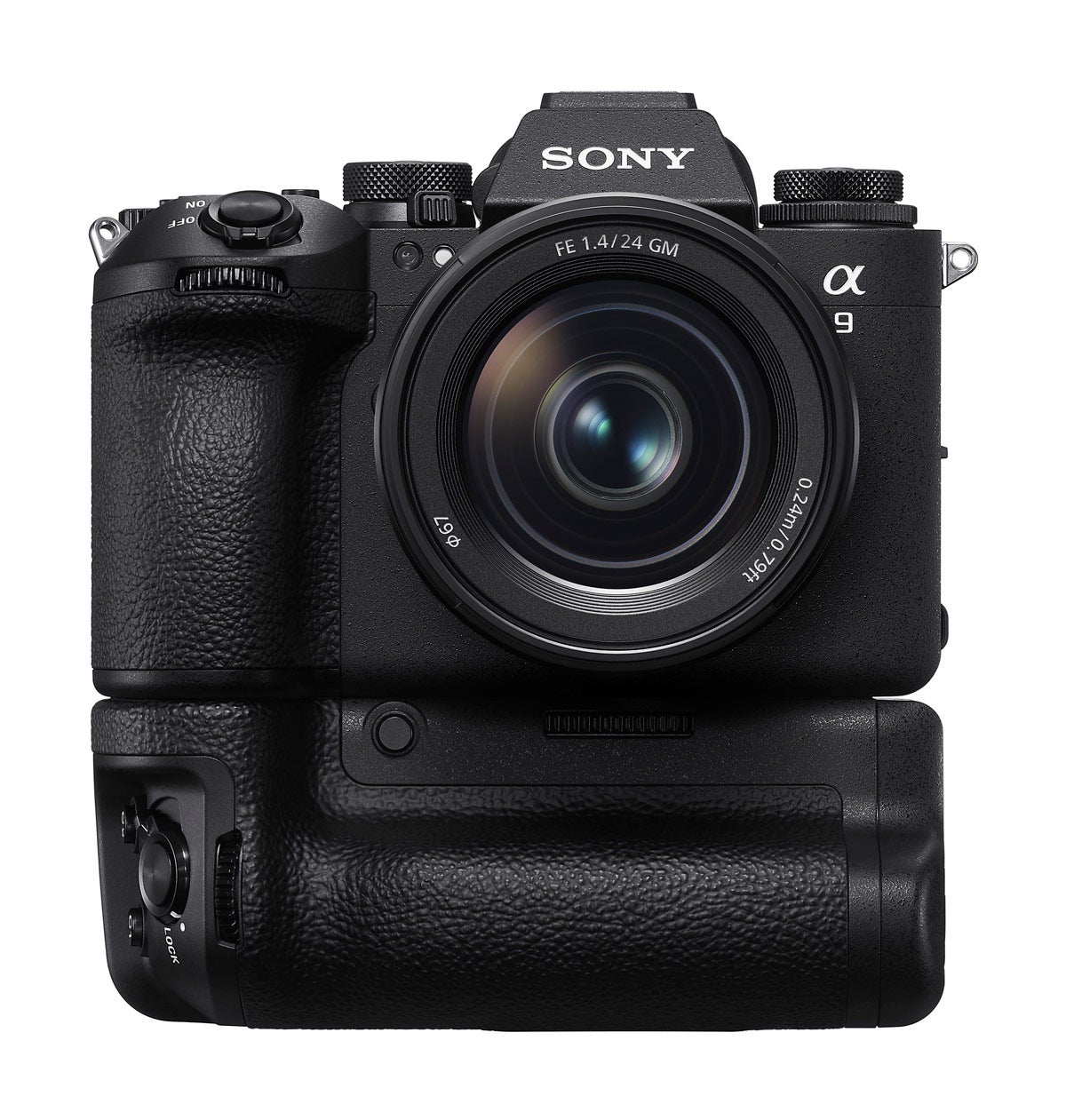 Sony a9 III details
There are plenty of other things to swoon about in the a9 III beyond the global shutter, though many are dependent on that feature. Sony built the new camera around a 24.6-megapixel full-frame stacked CMOS sensor and Bionz XR processor, which results in eight times the processing power as the a9 II. the five-axis optical in-body image stabilization system allows for eight stops of compensation with the camera alone. You'll get even more stabilization if using a stabilized lens as well.
On top of fancy guts, the a9 III features a redesigned body with better ergonomics. Sony says the grip is improved to make the camera easier to hold in the palm of the hand, even when using a telephoto lens. It says that it also moved the shutter button up slightly to be in a more natural, comfortable position. It features a four-axis multi-angle LCD touchscreen (the same as the a7R V) and 9.44 million-dot Quad XGA OLED electronic viewfinder. And as we'd expect from a pro-level Sony camera, it is dust and moisture-resistant.
To pair with the pro-level features of the a9 III, Sony is also releasing a new vertical grip—the VG-C5— that offers the same ergonomic design as the new camera. That includes the same shutter button placement and a new custom button (C5) in the same position so that it feels the exact same when switching between horizontal and vertical shooting. The new battery also pulls parallel power instead of drawing from one source and then switching to the other. Sony says that this allows for 15 percent more battery life.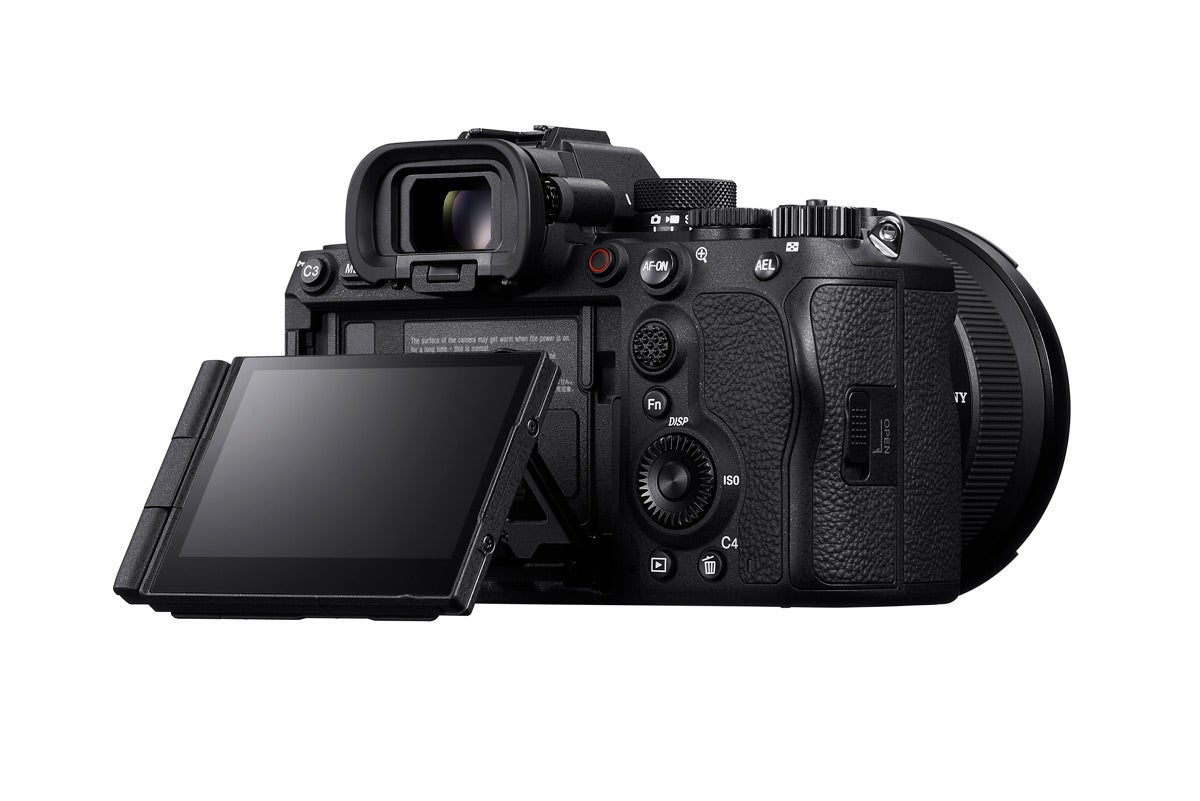 Burst shooting
One of the main selling points of the a9 III is its absurd burst shooting capabilities. This alone will earn it a top spot as one of the best Sony cameras. It is able to shoot 120 fps blackout-free with real-time recognition AF and auto exposure. The fast burst shooting even works with 14-bit raw. Shooting fast bursts is only one piece of the puzzle when documenting action, though. You also have to get the timing right in the first place. To help ensure you get the shot, Sony has added a Pre-Capture function. This new setting allows the camera to continuously record (also up to 120 fps) for up to one second before the shutter is released.
Even when shooting action, you don't always want your fastest fps setting. Sony has found a clever way to get around that with the Speed Boost function and a newly added a new custom button (C5) on the front of the camera. The new button allows you to instantly switch to a faster, preset speed at any time and then go back to a more reasonable fps just as quickly.
Image selection of 120 fps with Pre-Capture can be massively overwhelming. Sony even considered this when developing the a9 III. It has added a new playback image filter that allows you to select a large number of images at once, along with a function menu that can be used during image playback. The camera also plays back bursts as a video, so you can mark the shots you want without individually pressing through images.
Autofocus
As with other recent Sony releases, the a9 III features a dedicated AI processing unit to support its advanced phase detection autofocus system. It offers Real-time Recognition AF and Real-time Tracking and can detect a wide range of subjects, including humans, cats, dogs, planes, and more. The system can even detect an eye even when the subject is wearing goggles or helmets, is small in the frame, or moving fast. Sony also expanded the sizes of its focus areas to include XS and XL for more control over your focus points.
Sony a9 III video specs & features
Sony emphasized still photography during its announcement with a tagline of "the power of one frame." But the company certainly didn't leave video out of the mix in its new camera. The global shutter definitely benefits video shooters since rolling shutter has been a pain point. The a9 III is capable of 4K 60p video oversampled from 6K. It can also shoot 4K 120p without cropping, which is a first for an Alpha series camera. It offers the S-Cinetone profile, S-Log3, 10-bit 4:2:2 capture, and 16-bit raw video over HDMI.
Sony a9 III pricing & availability
Of course, with such an advanced, pro-level camera, we should expect a pro-level price. And indeed, the Sony a9 III is priced at $5,999. It is available for pre-order now and will begin shipping in the spring of 2024.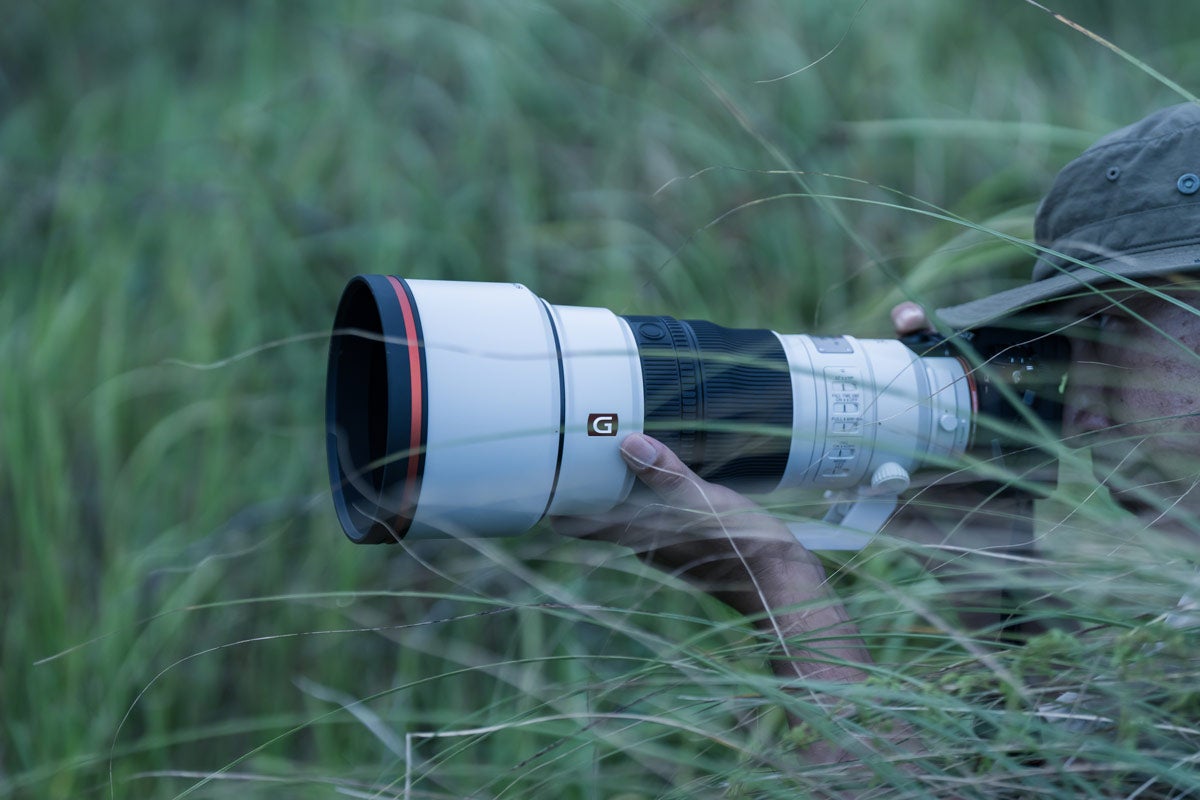 FE 300mm F2.8 G Master OSS lens details
In case the groundbreaking camera wasn't enough, Sony has also announced a new lens. Like the camera, the FE 300mm F2.8 G Master OSS lens is also a pro-level piece of equipment geared towards serious sports and wildlife photographers, as is evident in its matching $5,999 price.
As a G Master lens, the new 300mm offering will provide superb resolution and edge-to-edge sharpness. The optical design includes three Super ED (Extra-low Dispersion) glass elements and one ED glass element to reduce chromatic aberration and improve contrast across the frame. The 11-blade circular aperture results in beautiful smooth bokeh. And two XD linear motors drive focus that is fast, precise, and silent. It's also able to keep up with the fast burst shooting of the a9 III.
Beyond image quality, the best feature of the 300mm f/2.8 GM is its size. The lens weighs just 3.2 pounds, which makes it the lightest lens of its class. For context, it is 40 percent lighter than the 400mm f/2.8 GM and roughly the same weight as the original 70-200mm GM. Sony was also very intentional about how the lens balances, designing it with optimum balance for smooth panning and easier handheld shooting.
The new 300mm telephoto prime lens is compatible with Sony's 1.4x and 2.0x teleconverters. It offers a function ring to instantly engage the APS-C crop, providing a 420mm view. It is dust and moisture-resistant with magnesium alloy inside and out for a durable, rugged build.
Sony FE 300mm F2.8 G Master OSS pricing & availability
Like the new camera, the FE 300mm F2.8 G Master OSS lens is available for pre-order now for $5,999. It will begin shipping in the spring of 2024.
The post New gear: The Sony a9 III is the first full-frame camera with a global shutter appeared first on Popular Photography.
Articles may contain affiliate links which enable us to share in the revenue of any purchases made.