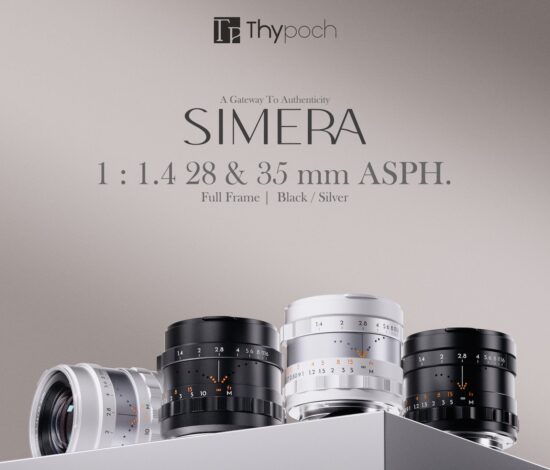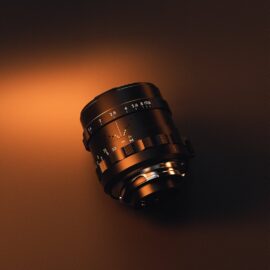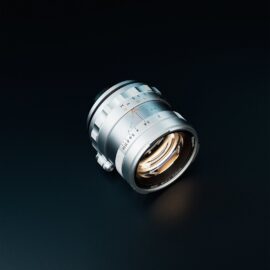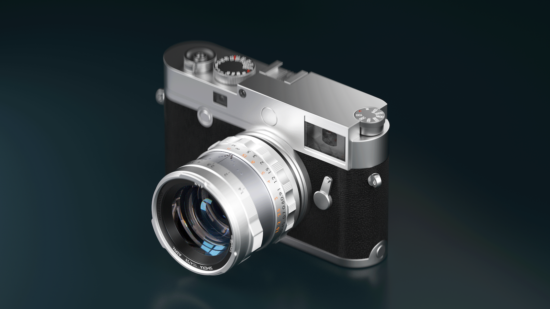 The new Thypoch Simera 35 f/1.4 & 28mm f/1.4 lenses for Leica M-mount are now available for pre-order in the US:
The 35mm lens has a floating lens element and one aspherical element: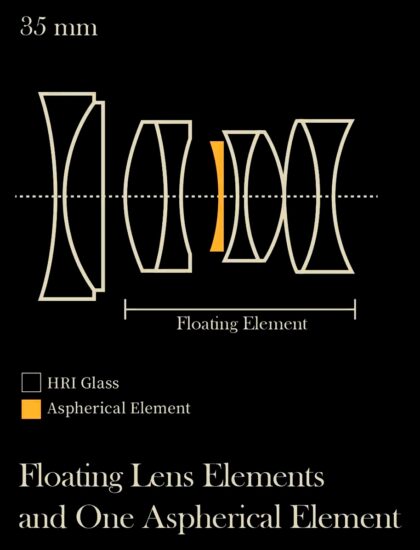 Thypoch is a new Chinese lens manufacturer. Both lenses feature a unique depth-of-field indicator (this depth-of-field indicator was introduced by Alpa/Kern on the famous MacroSwitar lens half a century ago):
Additional information:
Color
Black / Silver
Black / Silver
Focal Length
28 mm
35 mm
Mount
M-Bayonet
M-Bayonet
Aperture
F1.4-F16
F1.4-F16
Image Circle
43.2 mm (FF)
43.2 mm (FF)
Construction Of Optics
11 Elements in 7 Groups
9 Elements in 5 Groups
Flange Distance
27.8 mm
27.8 mm
Hood
Simera Hood
Simera Hood
Angle Of View
(Diagonal, Horizontal, Vertical)
75° / 65° / 45°
64° / 55° / 38°
Type Of Focusing
Manual focus
Manual focus
Close Focus
(From Sensor Plane)
0.4m / 1.4ft
0.45m / 1.5ft
Front Dia.
φ54 mm
φ54 mm
Filter Size
49 mm
49 mm
Length
55 mm / 2.13" (Without lens hoods)
69 mm / 2.7" (With lens hoods)
50.8mm / 2" (Without lens hoods)
64.8mm / 2.55" (With lens hoods)
Iris Blade
14
14
Weight(Product)
≈330g
≈352.5g
Simera 35/28mm F/1.4 – Manual Lenses For Leica M Users Brought By A New Brand Named Thypoch
Thypoch, an emerging manual mirrorless lens brand joined the expressive photography world by making its debut at Photopia Hamburg 2023. Differing from other existing lens brands, it passionately embraces "Thy-Photography", hoping that users can explore as various ways as possible to perform self-expression via images authentically and unlimitedly, revealing genuine relations tied up to self, others and the world.
Brand/Series Origin
Consisting of "Thy" and "epoch", Thypoch values the distinguished golden age each one creates solely for themselves. Each click of the shutter reflects and makes up an irreplaceable fragment of memory in their life. To start with, the first series, Simera (meaning "Today" in Greek) bears the profound pursuit of recording fleeting moments of the present day. The two full-frame prime lenses — Simera 35mm and 28mm, feature an imaging style of modernization, high resolution, high contrast, and low chromatic aberration, inspiring users to capture the traits exclusive to the present.
Key Features
A large aperture of F1.4 for round and dreamy bokeh
Click and de-click Aperture Mode
A minimum focusing distance of 0.45 m/0.4 m
Rangefinder focus invalidation alert at 0.7m on the focus ring
Automatic depth-of-field indicator
Vintage look harmonises with Leica aesthetics
Lens Characteristics
Boasting a wide aperture of F1.4 and a 14-blade diaphragm, the Simera Series creates stunning bokeh, effortlessly isolating subjects from their surroundings and delivering a mesmerizing sense of space. The seamless aperture transition between click and de-click modes offers smooth aperture adjustments during video shooting.
With a minimum focusing distance of 0.45 m and 0.4 m respectively, the Simera 35mm and 28mm allow users to explore the intricacies of the subjects with extraordinary details. When rangefinder focus is invalidated, the subtle resistance at 0.7m on the focus ring alerts users that they should use the EVF (electronic viewfinder) for optimal focus accuracy.
The innovative design of the automatic depth-of-field indicator enables photographers to easily visualize the range of focus within their composition, assisting them in making artistic decisions, especially when utilizing hyperfocal distance in street and landscape photography.
Pricing and Availability
The Simera lenses come in an aluminum-alloy body in silver and black, and are paired with a hood for the Leica M mount and A49 filters. The retail price is 699 USD with a box included.
Thypoch announced two new Simera 35 f/1.4 and 28mm f/1.4 lenses for Leica M-mount with unique depth-of-field indicator
Thypoch: a new Chinese manufacturer to debut at Photopia Hamburg with two new "Simera" lenses for Leica M-mount
The post The new Thypoch Simera 35 f/1.4 & 28mm f/1.4 lenses for Leica M-mount are now available for pre-order in the US appeared first on Photo Rumors.